Hawaii Democratic Primary 2016: Date, Where to Vote and Who's in the Running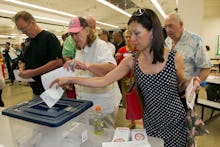 Primary season continues to roll along, with Democrats in Hawaii, Alaska and Washington state next in line to vote. Hawaii's Democratic presidential preference poll, otherwise known as its Democratic caucus, will be held at 1 p.m. local time Saturday.
For any Hawaiian Democrats still wondering where their local precinct meeting site is, a full list of polling locations is available here. Voters should make sure to arrive and get in line in advance of the start time, lest they miss the action.
Read more: 2016 Primary Voting Schedule: Primary Voting Dates for Every State
Former Secretary of State Hillary Clinton and Vermont Sen. Bernie Sanders will be the only two candidates on the Democratic ticket. Clinton is leading in the race for her party's nomination with 1,163 delegates to Sanders' 844. Hawaii will send 34 delegates to the Democratic national convention in July. 
The state's Republican Party held its caucus on March 8 — 42.4% of Hawaii's GOP voters selected Donald Trump, 32.7% went with Texas Sen. Ted Cruz and 13.1% support for Marco Rubio, who's no longer in the running. Ohio Gov. John Kasich won 10.6% of the vote, which wasn't enough to gain him any delegates. 
Hawaii has tended to vote Democratic in general elections past. Whether Sanders and Clinton can summon the same staggering enthusiasm as President Barack Obama, who was born in the Aloha State, did in 2008, is unclear. According to the Hawaii Herald-Tribune, some 37,500 voters turned out for the primary between Clinton and Obama; whether they'll be kinder this year remains to be seen.