Brussels Terrorist Attack Victims: Here's What We Know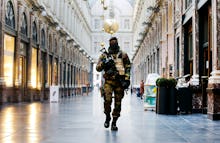 On Tuesday, suicide bombers detonated themselves at two locations in Brussels. The twin attacks on the city's international airport and a major subway station left at least 34 people dead and injured at least 230 others. The international terrorist group Islamic State has since taken responsibility for the blasts.
Just who was killed and maimed in the attacks remains unclear, although details of the victims have begun emerging. Here's what we know about those whose lives were irreversibly changed on Tuesday.
Sabrina Fazal
The BBC reports Fazal, a 24-year-old Belgian nursing student who has a 1-year-old son named Heyden, has been missing since the attack on the Maelbeek subway station.
"We're going to the military hospital later. We've been calling all other hospitals, we're still looking around," a friend told BBC. Her partner "saw Sabrina yesterday morning before she went to school. She studies nursing. Her phone was found close to the station but not inside. We think she might be injured, we'll see how it goes."
Raghavendran Ganesan
Ganesan, a computer engineer on a work trip from India, disappeared after entering the subway on Tuesday, the Wall Street Journal reported.
His brother, Chandrasekar Ganesan, has headed to Brussels to search for his sibling. He says he was talking to Ganesan on the phone just moments before the attacks.
David Dixon
The Nottingham, U.K.-born computer programmer, 51, did not show up to work Tuesday in Brussels and had been missing since the attacks; Dixon's death was confirmed Friday.
"This morning we received the most terrible and devastating news about our beloved David," his family said in a statement released by the British foreign office, according to the Telegraph. "At this most painful time our family would gratefully appreciate it if we could be left alone to grieve in private. Please respect our wishes."
Sebastien Bellin
The Battle Creek Enquirer identified the subject of a widely circulated photo as former Oakland University basketball center Sebastien Bellin. Bellin was thrown 20 meters by the blast, according to the Enquirer, which also reported Bellin had already undergone one surgery and would require another to remove sharpnel from his hip.
Leopold Hecht
A 20-year-old law student at Saint Louis University, Brussels, Hecht's death at the Maelbeek metro was confirmed by the school, the Guardian reported.
"I keep in our hearts the memory of a beautiful young man. All our most affectionate thoughts to your family," friend Véronique Gigot told the Guardian. 
Alexander and Sascha Pinczowski
A senior U.S. official confirmed Friday morning that the siblings, who are New York residents, were among those who died. The Dutch citizens were visiting family and en route home when they got caught in one of the explosions, though it remains unclear which one. 
They were reportedly speaking to their mother on the phone when she heard the bomb detonate before getting cut off. 
Unidentified U.S. Air Force officer and family
The U.S. European Command confirmed to the Associated Press that an Air Force lieutenant colonel, as well as members of the lieutenant colonel's family, were injured during the bomb blast in the airport.
Richard Norby, Joseph Empey and Mason Wells
Three Mormon missionaries from Utah — Norby, 66; Empey, 20; Wells, 19 — were seriously injured by the bomb blast in the airport, USA Today reported.
According to the paper, Empey's parents posted an updated to Facebook, indicating that Empey had shrapnel wounds in his ankles and knees and second degree burns to his head and hands.
According to a statement to USA Today by the Church of Jesus Christ of Latter-day Saints, the three were escorting a French congregation member to the airport at the time of the attack.
Unidentified shrapnel victim
X-ray images taken at "a military hospital in Neder-Over-Heembeck, in northern Brussels," show an unidentified person with a nail and other objects deeply embedded into their body, reports Time. (Authorities uncovered nail bombs during a subsequent raid in a Brussels suburb.)
Justin and Stephanie Shults
The married expat couple originally from Tennessee and Kentucky, respectively, went missing after being dropped at the airport by Stephanie's mother, NBC reported.
On Saturday, March 26, USA Today confirmed Justin Schults was dead, but did not have any updates on Stephanie's condition.
"We don't know for sure if [they] had been able to get out of the airport or if they were still in the airport," family member Betty Newsom told NBC.
Adelma Tapia Ruiz
The 37-year-old Peruvian native who lived with her husband Christopher Delcambe and their twin daughters Maureen and Alondra in Belgium was the first person confirmed killed in the attack by BBC. Delcambe and Alondra were injured in the attack, the news site reported.
"It is very complicated to describe this pain that we are feeling at home, but as the older brother, I know I have to try," her brother Fernando Tapia Coral wrote on Facebook, the BBC reported. "It is more difficult still to understand the way that destiny has snatched the life of a loved one, but even more incomprehensible is not being able to be close to her in this family tragedy that today knocked on the doors of my family."
Olivier Delespesse
BuzzFeed reports Delespesse's employer, Federation of Wallonia-Brussels, did not arrive for work Tuesday after boarding the subway and was later confirmed dead.
"The Famille de l'Administration just lost one of its members, someone available, helpful, considerate, always smiling," one coworker wrote on Facebook, according to BuzzFeed.
Two Jet Airlines employees
The New York Times reports a Jet Airlines spokesman in Mumbai has confirmed two of its cabin crew members were injured in the blasts in the airport. Both are receiving medical treatment for their injuries.
Bart Migom
The 21-year-old student, studying at Howest University in Belgium, was traveling to the United States to visit his girlfriend, the Telegraph reported.
Migom was at the American Airlines desk checking in for his flight at the time of the explosions. 
This story will be updated as more information becomes available. 
March 25, 2016, 9:37 a.m.: This story has been updated.