2016 Arizona Republican Primary: Donald Trump Cruises to Victory Over Cruz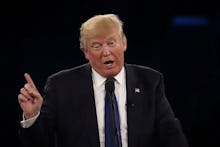 The Trump Train continues to chug along.
Republican frontrunner Donald Trump prevailed in Tuesday's Arizona primary, nabbing all 58 of the state's delegates to the Republican National Convention and dealing a setback to his opponents' hopes that they could deny him the 1,237-delegate majority needed to secure the party's nod.
The Associated Press called the race for Trump at 11:16 p.m. Eastern:
Read more: Arizona Primary 2016: Latest Polls and What to Expect in Democratic and Republican Races
For Trump — who entered the race warning of "rapists" pouring across the U.S.-Mexico border and vows to force the country's southern neighbor to pay for a border wall — the politics of immigration proved decisive in Arizona.
The billionaire businessman collected endorsements from former Gov. Jan Brewer, who signed a 2010 law cracking down on those suspected of being in the country illegally, and Maricopa County Sheriff Joe Arpaio, whose harsh tactics toward undocumented immigrants have conservative acclaim and scorn from immigrant rights activists.
But Sen. Ted Cruz of Texas, who placed second to Trump, heavily courted voters in the state, emphasizing his own support for tough immigration restrictions. In a Cruz campaign ad titled "Grant," the father of a young man killed by an undocumented immigrant told viewers, "I trust Ted Cruz. He believes in the Constitution. He believes in the rule of law."
Yet with no candidate having claimed the mantle of immigration more than Trump — and with the real estate tycoon increasingly seen by voters as the inevitable nominee — the results in Arizona underscore that time is running short for Cruz to dislodge Trump. 
Trump's next big test comes April 5 in Wisconsin, which will send 42 delegates to the Republican National Convention and which anti-Trump forces see as a linchpin to their hopes of derailing his campaign.