This Spring Playlist Is the Sensual Soundtrack You Need for Spring Sex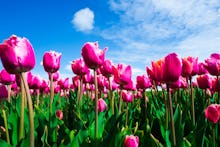 Spring has sprung, and so too have people's boners.
Nature's hibernation period is coming to an end, and plenty of folks are experiencing spring fever, which means they are scientifically hornier because of hormones and fertility or whatever.
All this new spring sex means you need to figure out what you're going to listen to while you have all this new spring sex. You need a special playlist. A spring sex playlist! Something filled with spring-y tunes capable of keeping both parties aroused for the entire duration of any given spring sexcapade. And preferably, these songs should be about both spring and sex, at the same time.
Below are just a few suggestions.
"Spring Love" by Stevie B
Many people think this classic '80s tune is about a heartbroken man lamenting the loss of his "spring love." But what it's actually about is having sex in the springtime. "Spring love," our horny protagonist croons, referring specifically to the act of spring(time) love(making). "Come back to me."
"Spring Affair" by Donna Summer 
More like Donna Spring, amirite? This underrated track from the disco diva's 1976 album Four Seasons of Love is centered around the thrill of having an affair. Specifically: an affair in the spring. A spring affair! This makes it the perfect soundtrack for even the most taboo of springtime sexual encounters.
"Younger than Springtime," from the 1958 movie musical South Pacific
This isn't just any show tune; it's a downright sex jam that's perfect for doing it in the (yup!) springtime. "Warmer than winds of June are the gentle lips you gave me" is just one of the song's many NSFW lines, which is ideally listened to while engaging in the act of springtime sex.
"Let's Sing a Gay Little Spring Song," from Bambi
This spring sex song from the 1942 Disney animated film Bambi is perfect for same-sex couples, as evidenced by the homosexual tendencies of its title.
Igor Stravinsky's "The Rite of Spring"
This 1913 ballet about pagan fertility rites has been known to come as a "shock" to listeners who are "more accustomed to the demure conventions of classical ballet," says PBS. Could the intense orchestral work have similar effects on your own sex life? Find out for yourself by listening to it during a sexual encounter.
Fats Waller, "Spring Cleaning"
Everyone has heard the phrase "spring cleaning" before, but not everyone is aware that it's actually a euphemism for sexual intercourse. This is a true fact. Look it up. 
The isolated audio track of this 1978 Irish Spring soap commercial
Is it technically a song? No! But if the sound of two hunky Irishmen groaning their way through an arm wrestling match and then deciding to take a shower* doesn't make your privates tingle, then who even are you?
Anything written or performed by rock & roll legend Bruce Springsteen
Little-known fact: His last name actually has the word "spring" in it.