In Wake of Belgium Bombings, Refugee Child Holds Up Sign That Says, "Sorry for Brussels"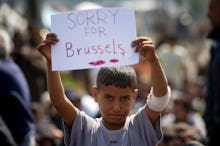 On Tuesday, a photo of a refugee boy at a protest in Greece holding a sign that read "Sorry for Brussels" circulated social media. The boy's gesture, in apparent honor of the series of terrorist bombings in Brussels by the Islamic State, or ISIS, that left at least 34 dead and 230 injured on Tuesday morning, garnered praise among viewers for depicting a moment of solidarity with the people of Brussels despite the boy's harsh situation. 
The protest was calling for reopening the Greek-Macedonian border, which was closed due to an agreement by EU leaders so refugees would return to Turkey. The boy is among the more than 10,000 refugees at a makeshift camp near the village of Idomeni near the Greek-Macedonian border. There, living conditions are poor, and children his age are suffering from dysentery, influenza and scabies. Food, proper shelter and clothing are also scarce.
Read more: People in Belgium Are Using #IkWilHelpen to Offer Aid in the Wake of the Brussels Attacks
The sympathy expressed by the boy from his visibly harsh living environment touched many, prompting the image to be widely shared on social media. 
h/t BuzzFeed
March 23, 2016, 11:20 a.m.: This story has been updated.