Kesha Is Appealing the Court's Decision that Kept Her Tied to Her Alleged Abuser, Dr. Luke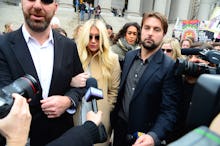 Lukasz "Dr. Luke" Gottwald may have won a battle when a New York State Supreme Court ruled in his favor during a February injunction in his legal battles with Kesha, but the war is far from over.
Continuing her fight to break her allegedly toxic contract, which keeps her tied to a man who she alleges physically, mentally and sexually abused her, Kesha is appealing the court's recent decision. In court documents obtained by the Hollywood Reporter, Kesha's team likens the court's ruling to deny her request to work with other labels while the case unfolds as being akin to legal "slavery."
"'[Y]ou can't force someone to work ... in a situation in which they don't want to work,'" the documents read. "The Court's ruling requiring Kesha to work for Gottwald's companies, purportedly without his involvement, does just that."
An offer Sony reportedly made to allow Kesha to record with other producers seemed to play a large role in derailing Kesha's injunction the first time around. But Geragos considers that an "illusory promise," according to the Hollywood Reporter. He believes the court did not offer adequate attention to testimonials from industry experts that argued Kesha's career would be over if she couldn't continue to record freely.
"The Court did not explain, nor could it, why any potential harm to [Sony Music Entertainment] could not adequately be compensated by money damages if it were to prevail in the litigation," Geragos wrote in a pre-argument statement. "Indeed, SME, Gottwald and all the related entities are each free to make music (and money) with other young talent. In the event they prevail in the litigation, they can recover money damages from Kesha for her breach of contract."
Mic reached out to Geragos for comment, but he was unavailable to speak before press time.
The news will likely breathe new life into the #FreeKesha movement, which inspired nearly unprecedented levels of activity on social media and activist platforms like Change.org following the initial injunction. Celebrities like Demi Lovato, Ariana Grande and Lorde all pledged support on social media, while Taylor Swift offered Kesha $250,000 to ease her financial situation during this trying time. Lady Gaga dedicated the Oscar performance of her sexual assault anthem "Til It Happens to You" to Kesha.
Kesha will need this support now more than ever as she moves into the next stages of the appeal process. It won't be pretty by any stretch of the imagination, but hopefully it will soon get her back to making the celebratory rock-star anthems her fans have gone without for so long.