Democracy Works Partners With 'Mic,' Other Organizations to Raise U.S. Voter Participation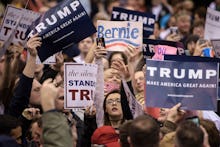 Democracy Works, a nonprofit dedicated to expanding voter turnout in America, is partnering with a number of nationwide organizations, including Mic, in an effort to raise the total voter turnout during elections to 80% by 2020. Voting participation among millennials has been historically low in recent years, with less than 20% of 18 to 29-year-olds casting ballots during the fall 2014 ballots — an election season which faced record lows in all age groups.
But the non-partisan group Democracy Works wants to change that, with the help of several major American institutions, prominent startups and even a state school. The list includes Starbucks, Lyft, TheSkimm, WeWork, Westfield, Mic, Arizona State University, Univision, Target, Fusion and Airbnb.
Read more: Donald Trump's Anti-Muslim Voters Forget That He Actually Has Muslim Supporters
The nonprofit launched a voting challenge on Wednesday to reach its voting goal on its website, entitled the TurboVote Challenge, the trending hashtag #VoteChallenge will be used. The trending hashtag will be used in collaboration with several of the listed corporations in an effort to increase awareness surrounding the importance of voting. 
"Participating companies will demonstrate their commitment by designing civic engagement plans that could include: promoting voter registration and awareness among their employees, using communication channels to share the TurboVote Challenge with customers and stakeholders, sponsoring awareness campaigns to keep people engaged and voting, and encouraging civic discussions and volunteer efforts," Democracy Works wrote in a statement emailed to Mic. 
No matter who you're voting for, it's important your voice is heard. Check out the Democracy Works TurboVote Challenge here.