Alaska Primary 2016: Date, Where to Vote and Which Candidates Are in the Running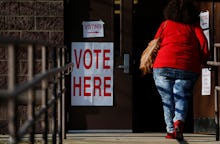 Alaskan Democrats will vote Saturday for their choice for the 2016 presidential ticket in the Alaska Democratic Caucus. The caucus will take place in several locations across the state — with a helpful guide available online to show would-be voters where they can support their nominee. 
According to the Alaska Democratic Party's website, voters will walk toward whichever corner of the room is designated for their candidate. If the party member does not achieve 15% support, the members will realign. However, since the Democratic race has been whittled down to former Secretary of State Hillary Clinton and Vermont Sen. Bernie Sanders, it shouldn't present an issue.
Read more: Arizona Primary 2016: Latest Polls and What to Expect in Democratic and Republican Races
Voting in the caucus will begin at 10 a.m. Alaska Daylight Time at the disclosed locations, and voters can sign up for a pre-registration ticket here. Following the results in Alaska and the rest of the primaries and caucuses from across the United States, the Democratic presidential primary will take place June 14.
In the meantime, if anybody isn't sure what a caucus is — as opposed to a primary — check out this brief explainer from AJ+ below.