Guns Will Soon Be Allowed in Kansas Classrooms — Here's Why That's a Bad Idea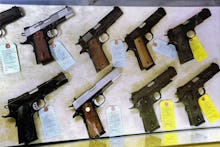 Here's another item to add to the back-to-school shopping lists, Kansas: a firearm.
College students in Kansas have been given the green light on guns in the classroom, NPR reported Tuesday. Whereas state universities previously had the final word when it came to keeping firearms off campus, by July 1, 2017, all of Kansas' public institutions of higher education will be obliged to accept concealed weapons.
"When a gun is in a school and harm is meant, there is only one thing that is going to stop that, and that is another gun," Kansas Sen. Forrest Knox (R) said in debating the measure, according to NPR. The argument for opening the state's educational landscape to firearms hinges on school safety.
Read more: This Gun Control Study Suggests a Clear Link Between Firearm Regulation and Gun Death
The measure isn't new, though — as the Kansas City Star reported at the time, the state's governor, Sam Brownback, signed a bill in April 2015 legalizing conceal and carry statewide, one that allowed anyone 21 and up to carry a firearm regardless of whether or not they possessed a permit or training. Brownback argued that the state was protecting a constitutional right.
Universities were exempt from enforcing the state's gun laws, but that exemption will run out in July 2017, as the Topeka Capital Journal reported. Individual schools will be left to determine their own guidelines for gun possession, but barring the installation of metal detectors and security guards at every building entrance, administrators must allow students — along with faculty, staff and visitors — to pack heat if they desire to do so.
According to NPR, Kansas' lawmakers largely stand behind the measure, but a poll of over 20,000 people working in the state's public schools suggested that educators do not. The majority reportedly feel that armed students would lead to a jump in campus crime rates; difficulty teaching what they wanted to teach, how they wanted to teach it; and a classroom environment that felt "less safe" than it would without guns. 
The fear of escalating violence isn't unfounded, nor is these educators' worry that campuses might become unsafe. As Lina del Castillo wrote for Quartz in February, when guns become a part of the college landscape, the incidence of sexual assault only rises. According to the Trace, there doesn't seem to be a link between "good guys with guns" and thwarted shootings; indeed, the presence of untrained-if-well-intentioned gun wielders tended to make an active shooter situation more dangerous. 
More guns on a college campus simply means more opportunity for accidental injury and death, especially if those toting firearms are't trained to use them. As is the case in Kansas. Of course, it's not the only state to have enacted such laws: Colorado, Idaho, Mississippi, Oregon, Texas, Utah and Wisconsin also allow for on-campus conceal and carry. 
If we're looking for proof that permitting students to carry guns doesn't do much to deter school shootings, we can look to Oregon's Umqua Community College, where 26-year-old Chris Harper Mercer fatally shot 10 people in October 2015.
To take a stand against guns on college campuses, check out DoSomething.org's Guns Out campaign.