Here's What Movies and TV Shows Are Coming to Hulu This April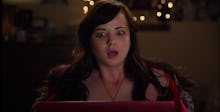 Hulu's wide-ranging library will add some new editions in April, which should keep you busy for the month (and, if you're so inclined, out of the charming spring weather). Most notably, the streaming service will be picking up the second half of MTV's Awkward season five, but there's also plenty of other enticing options to go through. 
Read more: What's Coming to Hulu in March? Here's a Complete List of Movies and Shows
Here's the full list of what will be available on Hulu — both movies and full TV series — in April. 
April 1:
Alfie (2004) 
American Loser (2007) 
Amistad (1997)
And You Thought Your Parents Were Weird! (1991)
Arctic Tale (2007) 
The Arrival (1996)
Away From Her (2006)
Bad Boys II (2003)
Bananas (1971)
Barbershop: Complete Season 1 
Basic Instinct 2 (2006) 
The Bear (1988) 
Bloodsucking Bastards (2015) 
Brighton Rock (2010)
Carlos (2010)
Chelsea Walls (2001)
Cinema Paradiso (1988)
Count Yorga, Vampire (1970)
Cube (1998) 
Cube 2: Hypercube (2003)
Cube Zero (2005)
Dead Heat (2002)
Dead Man (1995)
The Dead Zone (1983)
Death Wish (1974)
Deuces Wild (2002)
Donnie Brasco (1997)
Dr. T. and the Women (2000) 
Dragon: The Bruce Lee Story (1993) 
Dream Lover (1994)
E.T. The Extra-Terrestrial (1982)
Ferris Bueller's Day Off (1986)
From Dusk Till Dawn (1996)
Gang Related (1997)
Gravy (2015) 
The Grifters (1990) 
The Incredible Two-Headed Transplant (1971)
Into The Blue (2005)
Lars and The Real Girl (2007)
The Last Survivors (2014) 
Liberty Stands Still (2002)
Little Girl Who Lives Down the Lane (1976)
Loosies (2011)
Lucky Number Slevin (2006) 
The Manchurian Candidate (2004) 
Match (2014) 
Maximum Overdrive (1986)
A Mighty Heart (2007) 
Murder in the Dark (2013)
Music from Another Room (1998)
My Best Friend's Wedding (1997)
My Five Wives (2000)
Naked Gun 2&1/2: The Smell of Fear (1991)
Nurse (2014)
Open Your Eyes (1997) 
The Package (2013) 
Paddington (2014)
Paris (2008)
Payback (1999)
The Peacemaker (1997)
Pootie Tang (2001)
Pumpkin (2002)
Pumpkinhead (1988)
Rare Birds (2002)
Rescue Dawn (2007)
The Riot Club (2014)
Ronin (1998)
Santee (1975)
SCB30: Chavez vs. Haugen 
SCB30: Fight of the Year: Castillo vs. Corrales I
SCB30: Fight of the Year: Castro vs. Jackson 
SCB30: Fight of the Year: Matthysse vs. Molina 
Scream, Blacula, Scream (1973)
Second Arrival (1998)
Shopgirl (2005)
Sicko (2007)
Simon Says (2009)
Skipped Parts (2001)
Solo con Tu Pareja (1991)
Step Into Liquid (2003)
Submission of Emma Marx 2: Boundaries (2015) 
Swimming With Sharks (1994)
Teen Wolf Too (1987)
Tyler Perry's Daddy's Little Girls (2007) 
The Wicked Within (2015) 
The Wraith (1986) 
Zombies of Mass Destruction (2009)
April 2:
The Duff (2015) 
April 3:
Life or Debt: Series Premiere 
April 4:
11.22.63: Series Finale – Complete Limited Series Streaming 
Teen Mom: Season 5 Finale 
April 5:
Awkward: All New Episodes 
Faking It: Season 3 Premiere
April 6:
American Idol, American Dreams: Special (Fox)
Family Therapy: Series Premiere (VH1)
Mob Wives: Season 6 Finale
Teachers: Season 1 Finale
April 7:
Idiotsitter: Season 1 Finale
Workaholics: Season 6 Finale
April 8:
American Idol: Series Finale
Game of Silence: Series Premiere
All Things Must Pass (2015)
April 9:
My Mad Fat Diary: Complete Series 
Siblings: Complete Seasons 1 & 2
Sliding Doors (1998)
Maggie (2015)
Chappie (2015)
April 10:
Braquo: Complete Season 3
Available April 11
Love & Hip Hop: Season 6 Finale
The Story of God: Series Premiere
Available April 12
The Mindy Project: All New Episodes
Available April 15
Bones: All New Episodes
Before the Fall (2004)
The Whistleblower (2010)
Girl on the Edge (2015)
Available April 16
ShoBox: The New Generation 
Available April 17
Showtime Championship Boxing: Russell Jr. vs. Hyland 
Available April 19
Hard Candy (2005)
Tangerines (2015)
Available April 20
Deadbeat: Premiere - Complete Season 3 (Hulu Original) 
Available April 21
Sweet Micky for President (2015) 
Available April 23
It Follows (2014)
Available April 25
Reign: All New Episodes
Available April 27
Frente al Mismo Rostro: Complete Season 1 
Available April 28
The Yard: Complete Season 1 
Available April 29
The Selfish Giant (2013)
W. Kamau Bell: Semi-Prominent Negro
Available April 30
Life Below Zero: Complete Season 7 (Nat Geo)