Washington Democratic Primary 2016: Date, Where to Vote and More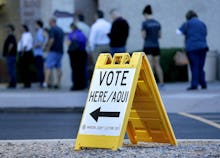 Washington state Democrats will vote Saturday at 7 a.m. PST for their choice for the 2016 presidential candidate in the Washington state Democratic Caucuses. Over 50,000 people have preregistered to attend the caucuses this weekend, a spokesman for Washington State Democrats told KIRO 7.
Read more: Utah Caucuses 2016: Latest Polls and What to Expect in the Democratic and Republican Races
"Democrats will join their family, friends and neighbors in their precinct to discuss their choice for the next President of the United States," the official website for the Washington State Democrats reads. "Your precinct caucus location will be a public venue close to you – most likely a neighborhood school, community center or place of worship." Washington residents can find their caucus site here.
There are 101 delegates are at stake within the Evergreen State, a crucial number for Vermont Sen. Bernie Sanders, who is trailing former Secretary of State Hillary Clinton by over 300 delegates. To win the Democratic nomination, 2,383 delegates are required.
The  Washington State Democrats website states that the meetings shouldn't take longer than two hours.