Here's What TV Shows and Movies Are Coming to Amazon Prime This April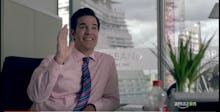 Adding variety to its collection of TV series and movies, Amazon Prime will release its sophomore season of Catastrophe in April, as well as unveil its new children series Thunderbirds Are Go. Yes, the two series are vastly different from one another, but there's plenty more great options to choose from in their latest batch of streaming adds — including the original Mad Max film from 1979. 
Read more: Top Rated TV Shows on Amazon Prime You Need to Be Watching Right Now
Without further ado, here's a full list of what you'll be able to check out on Amazon Prime in April (the asterisk denotes an Amazon Prime exclusive that isn't available on another streaming service). 
April 1: 
Amistad
Bananas
Batman (1989)
Crimes and Misdemeanors
Cube (1997)
Cube 2: Hypercube
Cube Zero
Death Wish
Dennis the Menace
Deuces Wild
Dr. T. and the Women
Dream Lover (1993)
Ferris Bueller's Day Off
Gang Related
Gremlins
Into the Blue
Lars and the Real Girl
Liberty Stands Still
Maximum Overdrive
Men in Black II (2002)
Music From Another Room
Nurse (2013)
Payback (1999)
The Peacemaker (1997)
Pootie Tang
Pumpkin
Pumpkinhead
Rare Birds
Rescue Dawn
Risky Business (1983)
Ronin
Santee
Simon Says (2006)
Skipped Parts
Step Into Liquid
Swimming With Sharks
Teen Wolf Too
The Arrival (1996)
The Big Lebowski*
The Dead Zone
The Devil's Advocate
The Holiday (2006)
The Naked Gun 2 & 1/2: The Smell of Fear
You've Got Mail
April 6:
The Transporter Refueled
April 7:
Nasty Baby
April 8:
Catastrophe season two*
April 9:
Maggie
Sliding Doors
April 12:
Mad Max (1979)
April 15:
Thunderbirds Are Go season 1*
The Whistleblower (2010)
April 18:
Home Fires season 1
The Widower season 1
April 19:
Tangerines
April 21:
Veep season 2
April 22:
Pawn Sacrifice
April 25:
Unity: The Latin Tribute to Michael Jackson
April 27:
The Great Fire season 1
April 30:
Ides of March
h/t A.V. Club