Stain-Resistant White Jeans Are Real, So You Can Now Guzzle Red Wine With Reckless Abandon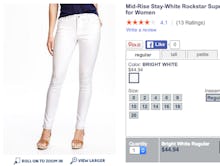 Breaking news for anyone who's had to retire a beloved pair of white jeans after an unfortunate pasta sauce spill or red wine stain — There is now stain resistant white denim made for all us messy slobs. Old Navy's "stay-white" skinny jeans are made with a magical "denim technology" that "repels stains and spills so your jeans stay white," according to the product's online description.
Read: Are Victoria's Secret Bra Fittings Failing Women With Big Boobs?
These magical pants sell for $44.94 at Old Navy — the price you have to pay for peace of mind. Melissa Morrin, a senior denim designer at Old Navy, told Refinery29 that the stay-white jeans are made with classic denim that is "then treated with a stain-resistant wash, which makes liquids roll off the surface, magically, making the jeans perform well with many of your everyday liquid spills like coffee, juice, and wine; and combat more difficult stains after one wash."
It's not clear whether the jeans are also stain resistant from the inside out (because periods, people) but, either way, these pants are a major development in the world of summer denim.
Online reviewers are already celebrating their new pants; one comment on the Old Navy website from someone who already has their pair said "I especially love that they are stain resistant I'm a terrible eater so I will definitely put these jeans to the test but I love them!"
The stay-white skinny jeans are available from Old Navy in sizes 0 through 20.