2016 Utah Republican Caucus: Ted Cruz Soundly Defeats Donald Trump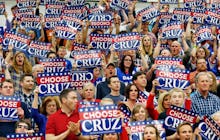 Republican Ted Cruz triumphed over Donald Trump in the Utah caucuses Tuesday, marking another win in his scramble to position himself as the GOP's best alternative to the controversial frontrunner.
The Associated Press called the race for Cruz at 2:32 a.m. Eastern.
Cruz had to win more than 50% of the vote to put all 40 of Utah's delegates in his column — and the AP said he was on track to do so.
Less than an hour later, the AP confirmed Cruz would in fact pull off a 40-delegate sweep:
"Thank you Utah!" he tweeted.
The Texas senator had 69% of the vote to 17% for underdog John Kasich and just 14% for Trump with 85% reporting, per AP results.
Read more: 2016 Arizona, Utah and Idaho Primary Results: Here's Who Won the West 
The Beehive State alone wasn't going to tip the scales in Cruz's favor, but the convincing win served as proof that the brawl isn't over — and there will be fences to mend within the GOP when the nomination process finally concludes.
Going into the caucuses, Cruz led Trump in the most recent poll conducted by the Deseret News. Cruz earned the Utah win after a defeat to Trump in the Arizona GOP primary earlier Tuesday.
The Republicans engaged in some late-night Twitter brawling over a PAC-sponsored pro-Cruz ad featuring a provocative photo of Trump's wife in an attempt to sway voters in heavily Mormon Utah.
The caucuses also took place in the shadow of Tuesday's bloody terror attacks in Belgium, with the candidates spending much of the day contrasting their national security plans.
The Utah vote was also something of a test of Mitt Romney's influence in the state he now calls home.
Romney, the 2012 GOP presidential nominee and former Massachusetts governor reamed Trump out in a scathing March 3 speech at the University of Utah and later said he'd caucus for Cruz.
Trump brushed off Romney's broadside, throwing his support for the 2012 GOP standard-bearer back in his face.
Utahns were determined to make their voices heard despite a series of obstacles: Republicans said they battled problems with the state's first test of a new online voting system.
10:04 a.m.: This article has been updated.