2016 Arizona, Utah and Idaho Primary Results: Here's Who Won the West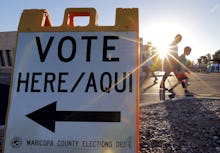 One week after the delegate-rich March 15 contests cemented Hillary Clinton's and Donald Trump's statuses as the frontrunners for the Democratic and Republican presidential nominations, voters in three states will have their say on Tuesday.
Both parties hold nominating contests in Arizona and Utah, with the frontrunners favored in the former and challengers Bernie Sanders and Ted Cruz positioned to prevail in the latter. Meanwhile, Democrats head to caucuses in Idaho, two weeks after Republicans handed a victory to Cruz there.
Read more:
We'll be keeping up-to-date with the night's latest developments below. All times are Eastern.
3:02 a.m.: We're wrapping up for the night. 
Stay with us for all the latest on the 2016 cycle...  — Celeste Katz
2:32 a.m.: Cruz takes Utah.
The AP called the Beehive State for the senator from Texas at 2:32 a.m., and said he appears to be on track to sweep all 40 of Utah's delegates. Incomplete results showed Ohio's John Kasich in second place and Trump a close third. — Celeste Katz
2:30 a.m.: Sanders is declared victor in Idaho.
The AP called the contest for the Vermonter at 2:26 a.m. — Celeste Katz
1:35 a.m.: Bernie takes Utah.
With early returns showing Sanders far ahead of Clinton, the AP called Utah for the senator at 1:30 a.m. — Luke Brinker
12:30 a.m.: Clinton's microphone briefly cut out.
— Stefan Becket
12:10 a.m.: Clinton focuses on the general election.
Appearing before supporters in Seattle, Washington, Clinton looked past Sanders to the looming general election, arguing that voters faced a choice between her steady hand and the "dangerous" ideas of the Republicans.
"You are all part of something bigger than yourselves. You're part of the most consequential election we've had for a long time in America," the former secretary of state said, following her victory over Sanders in Arizona.
Calling the election a "contest between fundamentally different views of our country, our values and our future," Clinton said that Tuesday's "horrible terrorist attack" in Brussels underscores the stakes of the election.
"This is a time for America to lead, not cower," Clinton said. — Luke Brinker
11:47 p.m.: Sanders touts beaten expectations.
Speaking to supporters in San Diego, California, Sanders rallied the faithful after his Arizona loss by reminding them of the surprising strength his campaign has shown since he launched his bid in the spring.
"When we began this campaign against the most powerful political organization in the country we had no money and no volunteers," he said. "Now we have hundreds of thousands of volunteers all over this country."
"Ten months later, we have now won 10 primaries and caucuses," he went on, adding that he also expected to add Utah and Idaho to his win column tonight. — Luke Brinker
11:29 p.m.: More fallout from the Trump-Cruz Twitter battle over their wives.
Liz Mair, the Republican operative whose Make America Awesome PAC launched the ad featuring Melania Trump to steer Utah caucusgoers away from the frontrunner, tweeted out a lengthy response to the earlier Trump-Cruz Twitter dustup.
"First, it's pretty clear that Trump is using our ad as a pretext to smear Heidi Cruz, an effort that his campaign has been quietly trying to undertake for several days now, including before the ad ran," Mair wrote, referring to Cruz's wife.
She also heavily hinted that more revealing photos of Trump's wife exist, and added, "I'm now reconsidering my decision to hold off on running two other ads that make this one look like a hypersanitized Bible story, mostly just for fun and to see if Trump will have an actual, full-on aneurysm."
Read her full statement to the press here: 
— Celeste Katz
11:23 p.m.: Trump and Clinton take Arizona.
As expected, Trump and Clinton have prevailed in the Grand Canyon State, the AP projected.
— Luke Brinker
11:08 p.m.: There's some chaos at the Utah caucuses.
Utahns were determined to caucus despite a series of obstacles.
Some Democrats, who were supporting candidates on paper, said ballots were in short supply.
On the Republican side, caucusgoers made their picks electronically for the first time — but not without snags.
Some users said they had problems registering via online forms or logging in to the system, according to the Deseret News.
"Both the state party offices and the helpline set up by Smartmatic, the Florida-based company handling the online voting for the GOP, were deluged with calls from Utahns having problems casting their vote," KSL-TV reported. — Celeste Katz
10:45 p.m.: NYPD spokesman blasts Cruz's Muslim surveillance proposal.
In response to Cruz's proposal — put forth after Tuesday's terror attacks in Brussels — to step up surveillance of Muslim communities, a spokesman for the New York Police Department forcefully pushed back, calling Cruz's proposal "incendiary" and "foolish."
— Luke Brinker
10:21 p.m.: Cruz fires back at Trump after Trump threatens to "spill the beans" on Cruz's wife.
10:09 p.m.: Polls are closed in Arizona, and the Utah Democratic caucuses close soon.
In Arizona, Trump and Clinton are both expected to prevail. In Utah, however, both Sanders and Cruz were ahead of the polls heading into Tuesday. Read our primer on Arizona here and Utah here. — Stefan Becket
9:53 p.m.: And we're back.
He had to get "Lyin' Ted" in there, apparently:
See the ad Trump is referring to here. — Stefan Becket
9:46 p.m.: Trump threatens to "spill the beans" on Cruz's wife in a hastily deleted tweet. 
In a tweet that was deleted just seconds after it was sent, Trump threatened Cruz's wife Heidi, apparently in retaliation for an ad campaign from an outside group that used an image of his own wife, Melania. It's unclear what "beans" Trump is referring to. — Stefan Becket
9:25 p.m.: Turnout among Utah Democrats looks strong. 
In Utah, where the Democratic caucuses are underway, turnout appears strong, which would play in Sanders' favor. Long lines were evident at numerous caucus sites:
The Vermont senator is expected to do well in the state, where 33 pledged delegates are up for grabs. — Stefan Becket