Donald Trump Just Threatened Ted Cruz's Wife on Twitter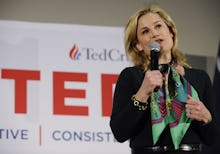 Republican presidential frontrunner Donald Trump delivered a cryptic threat to rival Ted Cruz's wife on Tuesday night, issuing a hastily deleted tweet saying he would "spill the beans" on Heidi Cruz if attacks on Trump's wife, Melania, persisted — and then delivering the same threat in a second tweet.
The first tweet came at 9:43 p.m. on Tuesday, and was deleted within seconds:
Trump's tweet referred to an ad from the anti-Trump super PAC Make America Awesome featuring a racy photo of Melania Trump from her modeling days. The ad read, "Meet Melania Trump, your next first lady. Or you could support Ted Cruz on Tuesday."
The super PAC is entirely separate from Cruz's campaign, but Trump nevertheless connected Cruz to the attack in a second tweet on Tuesday night:
Here's the ad that Trump took offense to:
Responding to Trump's tweet, Cruz called the real estate mogul "classless":