2016 Utah Democratic Caucus: Bernie Sanders Trounces Hillary Clinton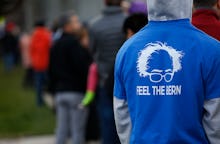 Bernie Sanders thundered to a decisive victory over Hillary Clinton in Utah's Democratic caucuses Tuesday, overcoming the national frontrunner amid heavy turnout.
The Associated Press called the race for Sanders at 1:30 a.m. Eastern.
With 82% reporting, Sanders had a commanding 80% of the vote to Clinton's 20%, per an AP count.
Read more: 2016 Arizona, Utah and Idaho Primary Results: Here's Who's Winning Out West
The Sanders victory came after Clinton had chalked up an earlier win in the Arizona primary.
The big Utah win for the Vermont senator showed continued strength in areas of the West where Clinton ran into trouble in her 2008 primary bid against now-President Barack Obama. Then, Obama overcame Clinton 57% to 39%.
Sanders adds Utah to his victory over Clinton in the March 1 Colorado caucuses by a margin of 59% to 40.3%.
Still, Sanders remains the underdog: A total of 2,382 delegates are needed to capture the nomination. 
As of the latest RealClearPolitics tallies, the former secretary of state has racked up 1,681 delegates to 937 for Sanders.
The populist Sanders took to Twitter earlier in the evening to rail against the delays and snafus Democrats faced in order to participate in the Beehive State's caucuses.
Democrats faced long lines and ballot shortages at caucus sites.
The Salt Lake Tribune reported that "turnout overwhelmed state party expectations, leading to caucuses that ran out of ballots, forcing officials to scramble to print more. The state party originally printed 65,000 ballots but by the end of the night predicted that 80,000 people showed up to vote at just 90 locations."
10:23 a.m.: This article has been updated.