These Syrian Refugees Saved a German Nationalist After He Was Involved in a Car Crash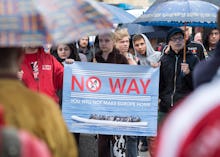 In a twist of irony, a leading member of the far-right National Democratic Party of Germany was saved by two Syrian refugees after he was involved in a serious car crash. 
According to the Guardian, 29-year-old Stefan Jagsch was driving outside Frankfurt when he lost control of his car and swerved into a tree. The refugees retrieved him from the wreckage and administered first aid until medical help arrived.
Jean Christoph Fiedler, the NPD regional chairman of Hesse (the state in which the crash took place) and state organization head, told the Frankfurter Rundschau the Syrian refugees "likely performed a very good, humane deed," according to the Independent.
In January, Jasgch participated in a nationalist demonstration, during which demonstrators referred to refugees as "benefit-scrounging tourists" and "lawless primates," the Guardian reported.
The NPD's Facebook page was also swift to join the chorus of people on social media blaming Islam for Tuesday's coordinated attacks in Brussels, which left at least 30 dead and 230 injured. 
"Islamist terror continues," a graphic released by the NPD read in German. "Our condolences to the families of victims."
For his part, Jagsch wrote a Facebook post to distance himself from the personally inconvenient story as it garnered national and global media attention. In it he said he was not conscious at the time of his rescue, so he can neither confirm nor deny it was Syrian refugees who came to his aid. (The Syrians, however, said Jagsch was in fact conscious when they found him, according to the Guardian.)
Isn't irony a bitch?