Adele Dedicates "Make You Feel My Love" to Victims of Brussels Terror Attacks During Show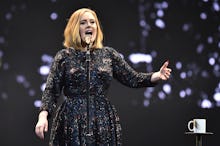 A glimmer of inspiration and solidarity for the victims of Tuesday's terror attacks in Brussels came during the final night of Adele's six-show residency at the O2 Arena in London, when the 25 vocal powerhouse brought down the house with a moving rendition of "Make You Feel My Love." Adele dedicated the song to Brussels, later telling the crowd it was one of the most inspiring moments of her life. 
"So obviously when I woke up this morning and I heard the terrible news about Brussels I felt a bit bad and sad that I was going to be doing a show," Adele told the London crowd, in a video posted online by fans. "We'll all make enough noise that they can hear us from here."
"We're all here for the same reason," Adele continued. "I'm hoping you've all come to be entertained by me. I'm here to entertain you, so we're all united, so that makes us much better than them fuckers. You're on your own you fucking loners."
Read more: Adele Made An Autistic Girl's Dreams Come True During A Manchester Concert
"I had never been so moved in my life at one of my shows," Adele told the cheering crowd after they sang along to her 2008 hit. "Make You Feel My Love" was initially penned by Bob Dylan, though Billy Joel was the first entertainer to record the song for his album Greatest Hits Volume III. 
But it was Adele who connected the youth to the song, which focuses on an endless love, one that knows no boundaries — regardless of doubt, distance or any prejudice. It's an important song to be heard at a time when there is so much terror and destruction enveloping the world.