Will Elizabeth Olsen, Mary-Kate and Ashley's Sister, Play Michelle on 'Fuller House'?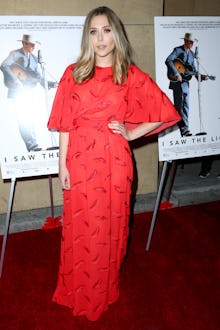 Rumors of Elizabeth Olsen taking the place of her older twin sisters, Mary-Kate and Ashley, as Michelle Tanner in the Netflix spinoff Fuller House have been shut down, according to E! News. Mary-Kate and Ashley Olsen broke '90s kids' hearts when they didn't join the cast of Fuller House as Michelle Tanner because, they said, they were unaware of the series. 
Elizabeth Olsen said she did not even get an offer. "If I did, I'm pretty sure no one on my team heard it," she told E! News. "I don't know where that started."
Read more: 'Fuller House' Accidentally Told a Compelling Story About How Friendships Help Us Cope
Strangely enough, it was Fuller House creator Jeff Franklin who started the rumors, claiming to have called her for an "inquiry" rather than an "offer." He told E! News in January, "And in our moment of disappointment, John Stamos and I talked about what to do and we thought for a moment, what if? We've known Elizabeth since she was a little girl." Then he said it wasn't a good idea.
Elizabeth Olsen told E! News she "can't say a bad word" about him, since they've known each other for so long. 
Fuller House was recently renewed for a second season by Netflix, but the twins continued to decline their offer, E! News reported on March 2. "But it's like all family reunions, there's always somebody that doesn't show up," Franklin said about the twins. "But hopefully next time around, we'll have them back."
There have been no casting updates from Netflix.