Bernie Sanders Spoke the Hard Truth About Climate Change on 'Jimmy Kimmel Live'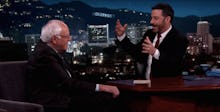 Bernie Sanders sat down with Jimmy Kimmel Live on Tuesday night to discuss a number of Americans' pressing concerns: the crisis in Flint, Michigan, billionaire Donald Trump, marijuana and wealth distribution in America were just some of the topics he touched on. But when it came to climate change, Sanders got real.
"Climate change is real, it's caused by human activity," Sanders reiterated to Kimmel on Tuesday night, a message he and fellow Democratic competitor and former Secretary of State Hillary Clinton have been pushing on the campaign trail. "And yet you don't have one Republican candidate prepared to say that." 
Read more: Topless Woman Interrupts Bernie Sanders At Phoenix Rally
For Republicans, admitting this fact would certainly be a major first step for the party as a whole, at least in Sanders' view. But, as the Vermont senator explained to Kimmel on Tuesday, the problem goes much deeper than lacking common sense. "It is crazy, but it's more than crazy. The reason for it is, they say it, they come on your show and they say it, their campaign funding is cut by the Koch brothers and the fossil fuel industry."
It's not the first time Sanders has upped the ante on climate change. Previously, the Democratic presidential candidate has linked a rise in natural disasters, temperatures and agricultural challenges to the growing threat of terrorism. 
"We've got a crisis! And these guys, you know, Trump for example, thinks its a hoax created by the Chinese, of all people," Sanders continued. "But the truth is, if they stood up and the right thing, the Koch brothers and the big money fossil fuel industry people would not fund their campaigns. That is how corrupt our current campaign finance system is."