More Sarah Palin Reality TV? Ex-Alaska Mayor Reportedly Stars in 'Judge Judy'-Style Show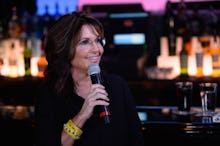 "Right-wingin', bitter-clingin'" former Alaska Gov. Sarah Palin may have found a job way more suitable for her than vice president of the United States — as Judge Judy's television courtroom prodigy.
Citing an unnamed source, People magazine reported Palin signed a deal with production company Warm Springs to star as the judge in a TV courtroom reality show that would kick off in 2017 if it gets signed by a station. This would be Palin's second reality show after her short-lived TLC series Sarah Palin's Alaska.
Read more: Sarah Palin Calls Out Donald Trump Protesters for "Punk-Ass Little Thuggery"
The show has already hired a team, including the executive that found Judge Judy and Judge Joe Brown, according to the report. "It's a production deal," the source told People. "What happens next is she'll meet with stations, make a pilot and sell it." 
Palin doesn't have a juris doctor degree, but People's source said it's all good because Palin has "common sense wisdom."
"Palin's telegenic personality, wide appeal and common sense wisdom make her a natural for this kind of format, and she was Warm Springs' top pick for this project," the source told People. That may be the first time "Sarah Palin" and "common sense" were used in the same sentence.
If Palin's judging style is anywhere near as aggressive as her 20-minute slam poetry-esque endorsement speech for presidential candidate Donald Trump, we're in for a splitting headache.