FBI Has Reportedly Found a Company to Hack the iPhone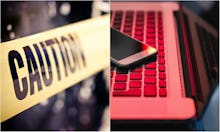 Apple may no longer be on the hook to create software that would make it easier for law enforcement to get into its smartphones. The FBI may have found a partner to help it hack into an iPhone 5c belonging to a suspect in the killing of 14 people in San Bernardino. 
Israeli mobile forensic firm Cellebrite is reportedly helping the FBI gain access, according to Israeli newspaper Yedioth Ahronoth. If the company is able to get past the iPhone's pin code, Apple will no longer have to continue its legal battle with the FBI over the creation of software that would effectually destabilize the security infrastructure of its devices. 
Apple and the FBI were supposed to meet in court on Tuesday, but the hearing was postponed to allow the FBI to see if a third party could provide a solution. Had it happened, it would have been an evidentiary hearing and the first time live witnesses would have been added to the mix. Apple was going to put its lead cryptography architect, Erik Neuenschwander, and Lisa Olle, the lawyer most involved with the FBI investigation, on the stand the company explained during a phone call ahead of the hearing. 
The FBI's request has launched a nationwide debate over how much access to an individual's phone law enforcement should have and whether the government should outline new laws around how a device is accessed in the event of an investigation. The conversation has also called into question the FBI's resources and whether the agency is training its employees to be skilled hackers.
While Cellebrite's involvement may give the FBI the answers it's looking for, it likely won't quell the conversation about the need for Congress to update its standards around how law enforcement should handle devices and what role technology companies are obligated to play in investigations.    
h/t Reuters