'The Voice''s Brittany Kennell and Trey O'Dell Shine With Fleetwood Mac Cover "The Chain"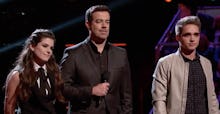 On Tuesday night's episode of The Voice, the contestants went vocal chords to vocal chords for the Battle Round, according to Billboard. There were three sets of battles between two singers: Caity Peters who defeated Joe Vivona with Billy Joel's "Honesty"; Laith Al-Saadi defeated Matt Tedder with the Rolling Stones' "Honky Tonk Women"; and Brittany Kennell defeated Trey O'Dell with Fleetwood Mac's "The Chain" in the starring performance of the evening, according to TVLine.
After the performance, Aguilera told Kennell that there's "something Gwen Stefani about her vibrato," which Pharrell also applauded. For O'Dell, Aguilera was fond of his falsetto, adding that he deserved a second shot. Kennell was chosen by Shelton as the winner and Aguilera used her steal to save O'Dell, Billboard reported. 
Read more: 'The Voice' Isn't Really About Singing At All
"In their battle performance, both artists came to life," Billboard wrote of their rendition. "They sang to each other and had a real connection, while still maintaining a connection with the audience through their performance."
While rehearsing for the performance, Kennell and O'Dell got some help from team adviser Gwen Stefani, Billboard reported. Stefani told Kennell to convey more emotion by digging deeper into the lyrics. 
The knockout round begins next week, with guest Miley Cyrus. 
Watch the performance below.