Why Won't BlackBerry Have Facebook Anymore? Facebook Pulling Apps From BlackBerry Phones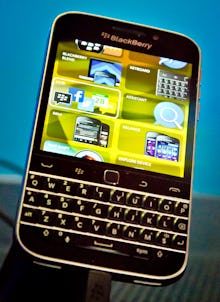 Shortly after Facebook-owned WhatsApp announced its withdrawal from the BlackBerry smartphone platform, Facebook itself and its Messenger app withdrew as well.
Why? Simply put, BlackBerry has been left in the wake of the rise of other major smartphone manufacturers, and because of that, it barely sells anymore. In a company blog post, WhatsApp wrote that BlackBerry phones lack "capabilities we need to expand our app's features in the future." Perhaps WhatsApp's parent company Facebook shared the same reason for pulling its BlackBerry support. Welcome to 2016, BlackBerry.
In their own blog post on its site last week, BlackBerry regretfully confirmed that its users will no longer be able to use the Facebook app on their phones by the end of 2016. "We are extremely disappointed in their decision as we know so many users love these apps," Lou Gazzola, leader of BlackBerry's App Ecosystem and Developer Outreach team wrote. "We fought back to work with WhatsApp and Facebook to change their minds, but at this time, their decision stands."
Read more: 'Straight Outta Compton' Trailers Were Marketed to Facebook Users Based on Their Race
Facebook said 99.5% of smartphone sales come from Apple, Google and Microsoft phones, according to TechCrunch. Perhaps the BlackBerry market share is just too small for app developers. If it's any condolence to BlackBerry users, they'll still be able to use the web browser version of Facebook.
Still, BlackBerry hasn't given up the seemingly hopeless task of courting Facebook. "Let them know how you feel on social media, using the hashtag #ILoveBB10Apps," Gazzola wrote. 
BlackBerry supporters obliged:
And then there's this: