Mash-Up Video Shows How Much Meghan Trainor's "No" Owes to Britney Spears' "Overprotected"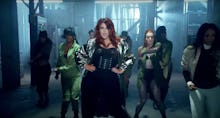 When you hit the first verse of Meghan Trainor's "No," one thing stands out more than anything else: how inescapably '90s it sounds. Its synth stabs are straight out of a Radio Disney broadcast, and the chorus melodies seem so reminiscent of so many '90s and early 2000s acts. Twitter grasped at straws for comparisons, settling at times for Destiny's Child, 3LW and TLC. 
However, a new mash-up video by producer Raheem D makes perhaps the most compelling case yet for another '90s pop star: Britney Spears. Mashing up Spears' "Overprotected" and Trainor's "No," he creates a surprisingly seamless fusion that spans decades. It shows how uncannily similar the two songs are to each other.
Recycling song structures, timbres and chords is nothing new in pop. In fact many pop writers deliberately veer towards other hit songs as a way to play off people's familiarity, in attempts to repeat that success. 
As some commenters on the video pointed out, Spears' "Overprotected" and Trainor's "No" do have different melodies and slightly different chord progression. Raheem D responded with an extensive breakdown of the connections they overlooked.
"The reason I thought they sounded similar is because they both have very similar backing vocals during the chorus," Raheem D wrote, responding to a commenter. "They both have a very similar song structure during the bridge through to the final chorus with the beat stop and the big note during the chorus. The verse instrumental features very similar chords/synths. And overall the general feel of the song in addition to Meghan Trainor's Britney-esque music video. Not necessarily the melody of the vocals though."
Raheem D is not the only one watching Trainor's "No" video that way. Several outlets framed it as being a perfect imitation of Y2K-era Britney Spears. Playing off that nostalgia obviously worked for Trainor: "No" debuted at No. 11 on the Billboard charts.