In Proposed Kansas Bill, People Can Sue for $2,500 If Trans Person Is in "Wrong" Bathroom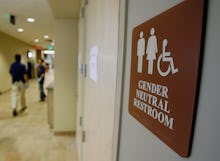 If a new Kansas law is passed, going to the bathroom may soon become more akin to the Hunger Games than is comfortable for many people — especially transgender people. 
A pair of bills — SB 513 and HB 2737 — would require students to use the bathroom that corresponds with their gender, which is "determined by a person's chromosomes and is identified at birth by a person's anatomy," the bill reads. According to the Lexington Herald-Leader, the bill would require that public schools and colleges designate any bathroom for more than one person to be used by a single gender. 
However, the bill goes even further: Anyone who sees someone in violation of the law can sue their school for up to $2,500. 
The language of the bills is frank and clear: The bills are meant to protect the psychological health of cisgender people from what legislators say is the threat of trans people in the bathroom. 
"Allowing students to use restrooms, locker rooms and showers that are reserved for students of a different sex will create potential embarrassment, shame and psychological injury to students," the bills read.
Republican Sen. Mary Pilcher-Cook told the Herald-Leader that the bill "protects" people from someone "just walk[ing] in." 
"I think any child or young adult has a right to have their privacy protected when they're in various stages of undress," she said.
Despite the fact that absolutely zero trans people have ever assaulted someone in a bathroom, lawmakers continue to mess with a trans person's ability to use a bathroom in peace. Florida Rep. Frank Artiles tried to make it completely illegal for transgender people in the state to use the bathroom at all. 
"People are not forced to go the restroom," he said in an interview with BuzzFeed. "They choose to go to the restroom."
Under the Kansas bills, transgender students wishing to use the bathroom can request a single-stall facility to do so. However, that opens the door to bullying and exclusion. 
"This is isolating kids, and it's not going to end well" executive director of Equality Kansas Tom Witt said to the Herald-Leader in an interview.
He continued, "It's outing them. It's putting a target on their backs."
Witt is correct. The harmful myths we tell about transgender people and public bathrooms lead to legislation like the transphobic South Dakota bathroom bill that required students to bring a note from a parent or guardian to use the bathroom that matches their gender. The governor eventually vetoed the bill. 
If Kansas passes the bill, the Sunflower State will be the first in the union to enact such a sweeping anti-trans bill. 
h/t ThinkProgress
Correction: March 24, 2016