Ted Cruz Just Defended Wife Heidi With a Line From 'The American President'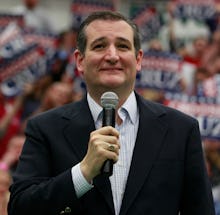 Ted Cruz's campaign is the stuff of films. Literally. 
During an interview with CNN, the Texas senator told the network that "If Donald [Trump] wants to get in a character fight, he's better off sticking with me, because Heidi is way out of his league."
Read more: Ted Cruz Keeps Quoting 'The Princess Bride,' and Mandy Patinkin Isn't Having It
The comment was in regard to the latest flare-up between Cruz and Republican presidential frontrunner Donald Trump. Team Trump accused Cruz of using a revealing image of Trump's wife, Melania, from a 2000 GQ shoot to sling mud. 
The image, which showed a nude Melania lying on a bed surrounded by the text "Meet Melania Trump. Your next first lady. Or, you could vote for Ted Cruz on Tuesday" was in fact the work of an anti-Trump super PAC. But despite Cruz's insistence that his campaign had nothing to do with the meme, Trump offered a characteristic warning.
"Be careful, Lyin' Ted," read the tweet, "or I will spill the beans on your wife!"
If Cruz's "way out of his league" retort sounds familiar, it might be because an identical line was spoken by an indignant President Andrew Shepherd played by Michael Douglas in the 1995 movie The American President while defending his own love interest.
Cruz's CNN appearance was part of an extended reply by the candidate in an attempt to insulate his wife Heidi from Trump's famous vitriol. 
It's not the first time Cruz has dropped movie quotes into his campaign. The conservative Texan also has a well-known love for the 1987 classic The Princess Bride, and has quoted the film to push his agenda.
But since no one's buying Cruz as Inigo Montoya, it would seem he's trying to inject a new role for himself into the minds of the American public — that of the American president.