Pornhub Now Has a Section for Virtual Reality Porn — And It's Free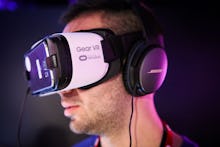 Pornhub, the internet's 65th most visited site, has collaborated with BaDoinkVR to launch the porn industry's first free virtual reality channel, according to Fortune. "It certainly looks like you're there, though the resolution on the demo video that I saw was blurry at best," Adam Clark Estes wrote for Gizmodo of his trial with virtual reality porn. "At worst, the perspective seemed a little skewed, such that at times, the female actress looked like a giant." 
As porn is already mainstream, and VR is an emerging medium, it's safe to say this was bound to happen. Especially as the adult entertainment industry seeks to upgrade its user "mesmeric experience" for further interaction, Pornhub vice president Corey Price said in a statement.
The channel take users into 360-degree trailers at no cost, hoping for Pornhub users to also subscribe to BaDoinkVR to get full access to 360-degree porn. Users can access the site on Pornhub over mobile devices (the way most people watch porn these days) and popular virtual reality headsets like the Oculus Rift, Fortune reported.
Read more: Pornhub Reveals 11 Things You Didn't Know About Millennials and Porn
So far the only available videos are heteronormative from the male's perspective, according to Gizmodo. However, women do in fact watch porn, so that might be an untapped VR market.
By 2025, VR porn is expected to be worth $1 billion, according to the press release. Possible, since Pornhub boasts a wide audience of over 60 million daily visits, according to a statement. 
VR porn is a newer format gaining traction. People can already visit a virtually simulated strip club with VRClubz, and also learn sex tips instructional VR videos from BaDoinkVR, Fortune reported.  
"If we can get past the giggling, Pornhub's entry into this new space may, in fact, provide valuable insight on what a sustainable publishing strategy in VR could look like," SuperData Research CEO Joost van Dreunen said, according to Fortune.