Remembering Phife Dawg's Life and Rise to Hip-Hop Royalty in His Own Words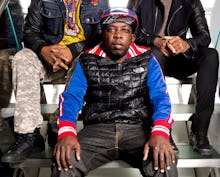 Wednesday, the hip-hop community came face-to-face with a show-stopping reality: Phife Dawg, real name Malik Taylor, one of the founding members of the golden age group A Tribe Called Quest, is dead. News of his death was tweeted by several artists close to him and later confirmed by Rolling Stone. The cause is still unknown, though he had been battling complications from diabetes for years. 
Taylor's untimely death at 45 years old cuts short a career on the verge of a renaissance. The Queens-born rapper was gearing up to release Muttymorphosis, which was going to be "basically my life story," as he told Rolling Stone. 
The project's status is unknown; fans are waiting to see if Taylor recorded enough of Muttymorphosis to allow for release. But giving the rapper that chance to speak about his own life and experiences seems the best way to say goodbye. We've dug through his years of Taylor's interviews to find him speaking to the different stages of his career, his thoughts about his style, his thoughts on Q-Tip — with whom he had a very public falling out — and his legacy.
"Can I kick it?" Phife Dawg asked on one of A Tribe Called Quest's finest songs of the same name. Yes you can, Phife.
Starting out and getting serious
A Tribe Called Quest started out as the brain-child of Q-Tip and Ali Shaheed Muhammad. Phife spit only a handful of verses on their first album People's Instinctive Paths and Travels of Rhythm, and it wasn't until the group's second album that he started to take things seriously and actually joined.
I happened to run into Q-Tip on the train one night, right in between that album and the recording of the second album 'Low End Theory.' And going into 'Low End Theory,' it was either do or die as far as coming that far into the industry. We knew hip-hop was a fickle industry. And we really needed to kick the door off the hinges with our next release. So he and I ended up having a discussion on the train all the way from Queens to Manhattan. I vowed to be a part of the group even more. And before you knew it, I signed my own little deal to be in the group and the rest, as they say, is history.
On A Tribe Called Quest's goal
One word: Longevity.
We wanted the longevity of Earth, Wind & Fire and Prince and people of that nature. We didn't want to be two-hit and three-hit wonders. We didn't want the big, big singles that we were known for. We wanted to be known for full-length albums. When you say, "A Tribe Called Quest," we wanted people to say, "That whole opus was crazy." There were certain artists who just came and went because they were known for a particular song and nobody paid anything else any mind. We didn't want to come into the game like that.
On listening back to his early hit records
Phife has said he can't stand listening back to his earlier records because his voice was so "high-pitched." As it turns out, meeting J Dilla, who produced several tracks on A Tribe Called Quest's Beats, Rhymes and Life, helped him change it up.
If you listen to the earlier Tribe stuff, at least vocally, my voice was like [raps in a high pitched voice], "Mr. Dinkins would you please be my mayor." You know, I was like 18 years old back then. But by the time I met Dilla, and he was doing beats for Tribe, I was like 25 or 26. So, I had to put a little girth in my voice. The beats were a little bit harder, so I didn't want to rhyme the same way as I did during our "Can I Kick It" days.
Losing faith in music
Phife and Q-Tip always had always been very divergent thinkers and rappers, with Q-Tip taking the role of esoteric philosopher and Phife being more of the street-wise poet. Around the group's third album, Midnight Marauders, their differences started dividing the group in a big way.
I really felt like with 'Midnight Marauders,' I came into my own. By the time when Beats, Rhymes and Life came out I started feelin' like I didn't fit in any more. Q-Tip and Ali had converted to Islam and I didn't. Music felt like a job; like I was just doin' it to pay bills.
On finding out he was diabetic, and fighting through
Taylor was diagnosed with diabetes in May of 1990. He didn't started taking his disease seriously until later in his life, but he never let it derail his drive.
My moms is diabetic but even growing up seeing her having to take insulin shots and things of that nature, I didn't take heed because I was still waking up to a glass of Quik, you know what I'm saying? Oreo cookies for breakfast, just stupid shit. It didn't make it any better that we were on the road performing, eating KFC, McDonalds, shit like that, and I was going hard when we was younger. I found out I was diabetic the month after the first album came out, so I thought my career was gonna be derailed from then, but I stayed with it. I stayed touring.
On the meaning of "hip-hop"
A Tribe Called Quest's crossover and mainstream success positioned them to be many people's first exposure to hip-hop. They helped define what that genre means.
Hip-hop is the way you walk, the way you talk, the way you eat, the way you move, you know what I'm saying? It's definitely part of my DNA, I can't speak for anyone else. Hip-hop is that movement that will never die, despite the fact that everybody thought it was a fad, a phase or what have you. It's a way to express yourself, almost like dance, that culture, if not bigger. Hip-hop is everything, hip-hop is rock 'n' roll, hip-hop has been rock 'n' roll ... So...hip-hop is life. That's basically what it is to me.
Advice for the next generation of artists.
Don't quit your day job! Nah, some real advice though: If something is really and truly in your heart, go hard. Just go real hard. Don't let nobody tell you that you can't, you know what I mean? Because I've had a million and one people, if not more, tell me "you can't, you can't, you can't". They said I wasn't going to make it, and I did. Follow your dreams. Don't follow them 24/7. Follow them 25/8.