A 'Sherlock' Manga Series Is Coming to America — And It Looks Pretty Awesome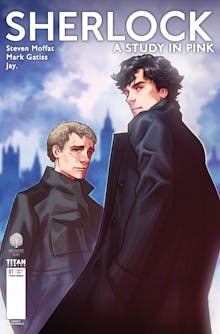 While Sherlock Holmes has held many forms since the initial creation of the character by Arthur Conan Doyle, the detective's most recent immortalization in media is perhaps its most unique: becoming a manga series. The popular BBC Sherlock series — featuring Benedict Cumberbatch and Martin Freeman as Holmes and Watson, respectively — has its own manga series in Japan. Now, Titan Comics is translating the manga created four years ago, and bringing the adaptation to western audiences.
According to Gizmodo, the series will feature variant covers from several artists and will initially adapt the first episode of the show, "A Study in Pink," which will be available in June. "As a core starting place, Holmes is the detective — the first one, the one everyone references," Titan Books editor Miranda Jewess said, in an interview with the Guardian. "It's nice to have that point of familiarity, then you can have writers from any genre playing with it ... We've had Holmes fighting everything — even Frankenstein's monster."
Read more: Photos of Black Panther, Ta-Nehisi Coates' Comic Book Revival, Released
In the meantime, you can check out some strips and covers Titan Comics has provided below. 
h/t Gizmodo