The NYPD Just Trashed Ted Cruz's Anti-Muslim Response to the Brussels Attacks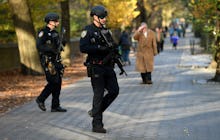 The NYPD has come out swinging against Republican presidential candidate Ted Cruz, who, in the wake of Tuesday's terror attacks in Brussels, Belgium, called for law enforcement agencies to immediately "patrol and secure Muslim neighborhoods before they become radicalized."
On Twitter, official NYPD spokesman J. Peter Donald called the candidate's words "incendiary" and "foolish."
"Are our nearly 1k Muslim officers a 'threat' too?" Donald asked.
On Wednesday, Donald's boss, NYPD Commissioner William Bratton, told reporters, "The statements he made today is why he's not going to become president of this country."
"We don't need a president that doesn't respect the values that form the foundation of this country," he continued. "As the mayor mentioned, I have over 900 very dedicated officers in this department, many of whom do double duty and they serve as active duty members of the U.S. Military in combat, something the senator has never seen."
"So before he starts denigrating any population, he should take a close look at who he's denigrating," Bratton concluded. "I take great offense ... The senator basically is really out of line with his comments."
As commissioner of the NYPD, Bratton is easily the nation's most powerful local law enforcement official. The agency has roughly 34,450 uniformed officers, and was once compared to a private army by former New York City Mayor Michael Bloomberg.
But the NYPD has its own sordid history with its treatment of the city's Muslim-American population. In February, the agency settled two major civil rights lawsuits over the agency's allegedly unconstitutional surveillance of mosques and Muslim communities following 9/11. As part of the settlement, the NYPD agreed to independent civilian oversight of its intelligence units.
Watch Bratton's remarks below: