Prescription Painkillers Are Finally Getting the FDA Warning Labels They Deserve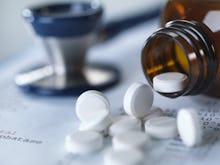 People who take opioid painkillers can expect to find severe new warnings on their pill bottles.
In an effort to combat the country's growing opioid epidemic, the Food and Drug Administration is updating its labeling requirements for a certain type of opioid pain medication, a Tuesday press release stated. 
The changes will apply to immediate-release opioid pain medications — opioids designed to be taken every four to six hours. IR opioids account for 90% of all opioid prescriptions, according to the New York Times. 
Among the FDA's new labeling requirements is a new "black box" warning "about the serious risks of misuse, abuse, addiction, overdose and death," according to the release.
"Opioid addiction and overdose have reached epidemic levels over the past decade, and the FDA remains steadfast in our commitment to do our part to help reverse the devastating impact of the misuse and abuse of prescription opioids," FDA commissioner Dr. Robert Califf said in the statement.
Too Little, Too Late
In the wake of the FDA's announcement, some opioid abuse experts were left wondering why the changes hadn't come sooner.
One of them is John Merrigan, register of the Franklin County Probate and Family Court in Massachusetts and co-chair and founder of the Opioid Task Force. 
"This should have happened two or three years ago, when there was a big uptick in people abusing these medications," Merrigan said of the new labels when reached for comment on Wednesday.
After all, prescription opioid abuse has been growing for years. In 2008, the rate of opioid overdose deaths in the U.S. was nearly four times higher than it was in 1999, according to the American Society of Addiction Medicine. In 2012, the United Nations' World Drug Report deemed the non-medical use of prescription opioids "extremely problematic."
Not all opioid users are getting high on prescription pills. The labels "may have an impact on people using opioids for chronic pain — it's a reminder to them — but it's not going to impact the people that are really caught up in the heroin craze," Merrigan said.
Four out of five people who get into heroin started by abusing prescription painkillers, according to the ASAM. For people who have swapped their opioid painkillers for heroin — or for people who started using heroin from the get-go — the warning labels may not help.
Others say the new warnings aren't quite comprehensive enough. IR opioid pain medications can be harmful when taken alone, but they pose additional life-threatening dangers when combined with benzodiazepines, like Xanax. 
Baltimore City Health Commissioner Dr. Leana Wen has called on the FDA to place black box warnings on opioids and benzodiazepines, explaining the risks associated with using them concurrently. She's still hoping it'll happen.
"While we commend the FDA's efforts to increase awareness about the serious risks of these medications through these new warnings, we know that there is another dangerous combination of medications that will need an even clearer warning to further stop the spread of this national epidemic," Wen said in a Tuesday statement.
The Bigger Picture
The new warning labels may not be perfect, but they're just one of many ways the federal administration is addressing the country's opioid epidemic. 
On March 15, the Centers for Disease Control and Prevention released an official set of guidelines urging doctors to prescribe fewer opioids. 
This week, the U.S. government sent letters to the governors of all 50 states urging them to adopt best practices in managing the epidemic, representatives said on a Tuesday press call. Those best practices include prescriber training, prescription drug monitoring, syringe programs and increasing the availability of the overdose-reversal drug Naloxone.
On March 29, President Barack Obama will speak at the National Prescription Drug Abuse and Heroin Summit in Atlanta, Georgia. Obama's attendance is a sign of "how widely this issue is resonating," CDC director Tom Frieden said on the press call.
It shows "how important it is to the administration," Frieden continued, "and what a priority it is to us to do everything we can to help turn the tide on this terrible epidemic."