2016 Presidential Poll: Latest Results for Candidates Week of March 21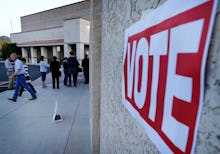 Coming off of a fresh round of state primaries and heading into a day of Democratic caucuses — in Hawaii, Alaska and Washington state — on Saturday, it seems as good a time as any to check in on the 2016 presidential candidates to see where they stand.
Nationwide, businessman-turned-politician Donald Trump still leads his opponents, Texas Sen. Ted Cruz and Ohio Gov. John Kasich, by an average of 15.4 percentage points, according to RealClearPolitics. A Quinnipiac University poll out Wednesday put Trump's support at 43%, while Cruz had 29% and Kasich had 16%. 
Read more: Topless Woman Interrupts Bernie Sanders at Phoenix Rally
The same poll put former Secretary of State Hillary Clinton ahead of Vermont Sen. Bernie Sanders 50% to 38%, although a CNN/ORC poll released Monday indicates that Sanders may be closing that gap; 51% of respondents said they'd most like to see Clinton get the party's nomination for president, whereas 44% said the same of Sanders. However, his numbers are up since the last CNN/ORC poll, in which 38% opted for him. Clinton's percentage was four points higher at the time. 
Clinton is still ahead nationwide, according to RCP, with a 9.6-point lead on Sanders. The March 22 primaries in Arizona, Utah and Idaho made for a change in recent voting patterns, but they didn't reverse either party's pecking order.
In Tuesday's contest in Arizona, Trump scored big, with 47.1% of the votes against Cruz's 24.9% and Kasich's 10%. Because Arizona's GOP primary is winner-take-all, Trump added the state's 58 delegates to his tally. Clinton bested Sanders in the Grand Canyon State, where the party's primary was colored by some pretty shady behavior. She won 57.6% of the vote to his 39.9%, gaining 44 delegates to his 30. 
It was a different story in Utah, however, where the Republican caucus ran firmly in Cruz's favor. He won the state's 40 delegates with 69.2% of the vote, versus Kasich's 16.8% and Trump's 14%. In the Democratic caucus, Sanders was victorious, winning 79.3% of the vote to Clinton's 20.3%. Sanders got 26 delegates from the Beehive State, while Clinton got six.
Cruz also overtook Trump in Idaho, garnering 45.4% of his party's vote to Trump's 28.1% and Kasich's 7.1%. Cruz was awarded 20 delegates and Trump, 12. Sanders beat Clinton here too — and by a wide margin. His 78% voter support won him 17 delegates, while her 21.2% got her just five. 
Where does that leave them? Trump still leads the Republican race, with 738 of the party's requisite-for-nomination 1,237 delegates. Cruz has 463 and Kasich has 143. Clinton, meanwhile, has 1,223 delegates against Sanders' 920.