An 'All That' Reunion Will Be Coming to Nickelodeon in April, '90s Kids Rejoice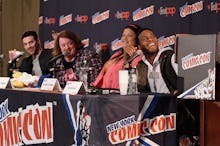 Ready yet? Get set. It's All That. The cast of the '90s sketch comedy All That will be coming back to television for a reunion this April. Danny Tamberelli, Kel Mitchell, Josh Server, Lori Beth Denberg and Kenan Thompson have all confirmed that they will return to Nickelodeon programming block The Splat for the reunion. 
Read more: 5 Fantastic Nickelodeon Shows Taught Us the Importance of Diversity and Inclusion
Fans of the show loved it for many of its iconic recurring sketches, such as "Repairman," in which Mitchell, clad in his repairman-superhero garb, would appear out of nowhere only to make a bad situation worse. Another popular sketch on the show, "Vital Information," featured Denberg relaying bizarre information to the audience. 
The hashtag #AllThatReunion has sparked a reaction among millennials who grew up watching the sketch comedy show. 
This won't be the first time some of the former cast members have reunited. In October, Denberg, Mitchell, Tamberelli and Server met up at the New York Comic-Con to participate in The Splat's panel.
All That lasted 10 seasons on Nickelodeon, debuting in 1994 and ending in 2005. The popular series provided breakout spinoffs for some of its cast members, such as Nick Cannon's The Nick Cannon Show, Amanda Bynes' The Amanda Show and Thompson and Mitchell's Keenan & Kel.