Larry Wilmore Tries to Understand Black Donald Trump Supporters, Leaves Equally Confused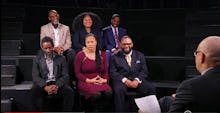 While people have the right to vote for whomever they want in the 2016 election, one piece of the election puzzle has left Larry Wilmore confused: Just who are the black people supporting Donald Trump? On Monday night's episode of The Nightly Show With Larry Wilmore, the host sat down with six black Trump supporters to unearth their reasons for supporting the real estate mogul. 
In an attempt to rationalize their choice of Trump, one supporter had a straightforward reason: "I'm open to Donald Trump because I feel like he's a gangster," she said to Wilmore. "He's like, 'If you come up to my mic, I'm taking you out.' Coming from the hip-hop community, I understand his language."
Read more: 'Full Frontal With Samantha Bee' Tackles Untested Rape Kits and Local Politics
While one supporter wanted to ensure viewers that Trump would not turn everyone into slaves, another had an interesting viewpoint to share with the comedian. "Everyone is trying to enslave you," he said. "But the main important thing is how much I'm gonna get paid while I'm enslaved."
Moreover, another said he was also Muslim, but that would not deter him from voting for Trump — even after Wilmore reminded him that the GOP frontrunner wants to ban Muslims from entering the United States. Ultimately bewildered by their collective reasoning, Wilmore asked that the supporters raise their hands and take a pledge to not tell anybody they're voting for Trump until after the election — much to their chagrin. 
When the segment cut back to Wilmore in the studio, all he could say was, "I still don't get it." 
Check out the full segment below.