ESPN Tried to Shame Cuba on Poverty and It Backfired Spectacularly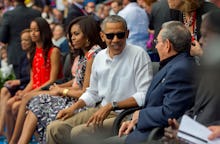 During President Barack Obama's historic trip to Cuba this week, the Twitter account for SportsCenter — ESPN's banner TV show — tweeted the following photo of the scene outside Havana's Estadio Latinoamericano, where POTUS was watching a baseball game with Cuban president Raúl Castro on Tuesday:
The caption read, "Meanwhile, next to the stadium in Havana..." — an apparent attempt to highlight the irony of the most powerful man in the world enjoying a game at a fancy ballpark while the ills of poverty sat right next door.
There was just one problem:
Justin Klugh, a sports blogger with SB Nation, responded by tweeting the above image of the scene outside Citi Field in Willet's Point, Queens, where the New York Mets play baseball. 
If anything, the shot from the U.S. looks even starker than the one from Cuba.
Willet's Point is one of New York City's most structurally devastated neighborhoods. In 2013, it was described by the New York Times as a "blighted area" marked by a "tangle of auto shops" and potholed, oil-slicked streets that looked "as if they had been blasted by land mines."
Auto mechanics struggle daily to eke out a living there amid the decay. The area has also famously been the target of several attempted renewal plans by the city and developers, going all the way back to the 1960s, according to Jalopnik.
But Willet's Point — which houses the Arthur Ashe tennis stadium as well — is not the only example of opulent sports arenas sitting next to severe poverty in the United States. A handful of other Twitter users followed Klugh's post by tweeting images of different areas where multi-million dollar coliseums seem to have been dropped in the middle of America's poorest neighborhoods:
Some added social commentary to their posts:
Adding to the irony was that Obama had tried a similar move earlier in the week. In a televised meeting with Castro on Monday, Obama chided Cuba on its human rights record, pointing to the Caribbean nation's issues with freedom of speech and freedom of religion.
"America believes in democracy," Obama said, according to Al Jazeera. "We believe that freedom of speech and freedom of assembly and freedom of religion are not just American values but are universal values."
Meanwhile — as Castro quickly indicated — the U.S. government has largely failed to "to ensure health care, education, food and social security for its people" back home. The meeting also took place just across the island from Guantanamo Bay, the U.S.-run military detention center where accused war criminals and others have been routinely held and violently interrogated sans anything resembling due process over the past 14 years.
As they say, people who live in glass houses shouldn't throw stones.
h/t Gizmodo