Job Applicants of Color Are More Likely to Get a Callback if They "Whiten" Their Résumés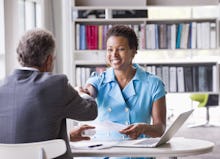 As companies like Twitter make workplace diversity a top priority, they may be setting up minority applicants for disappointment.
According to a forthcoming paper from the University of Toronto Mississauga, candidates who are under the impression that their prospective employer is seeking diversity may have a worse shot at getting hired. 
Sonia Kang, the lead author of "Whitened Résumés, Race and Self-Presentation in the Labor Market," said that people of color applying to companies advertising a commitment to diversity are less likely to downplay their race — or "whiten"  —  their résumés. 
And the research says it could cost them the job.
Read more: The Disturbing Result When Women and Minorities Promote Workplace Diversity
"It's really a wake-up call for organizations to do something to address this problem. Discrimination is still a reality," Kang said in an article posted to the school's website.
In the study, a third of Asian and black job applicants said they've done things like alter their names or omit certain work experience, so as not to point to their race or ethnicity. Those same participants said the only time they would consider forgoing this strategy would be if the company to which they were applying touted diversity. 
Ultimately, such promises proved empty: "Whitened" résumés showed to be twice as likely to get a callback from employers claiming commitment to a diverse workplace than their un-"whitened" counterparts.
Though perhaps disheartening, Kang said the study is enlightening in at least one way: "It shows us that racial minorities aren't just passively receiving this discrimination," she said.  "They're trying to do something about it."
Enlightening? Sure. Frustrating as hell? Absolutely.