Arizona Is Being Accused of Voter Suppression After Some Waited 5 Hours to Vote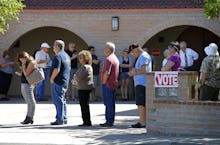 At some polling places Tuesday in Arizona, voters waited in line for hours to vote in the state's primary — and some even walked away when they realized how long the wait was, the Phoenix New Times reported. Now, some are claiming the long wait times in one county in particular was a direct result of county officials' decision to reduce the number of polling places. 
Read more: Donald Trump Just Threatened Ted Cruz's Wife on Twitter
In 2012, Maricopa County, the most populous in Arizona, had "at least 200 polling stations," reported CNN, but on Tuesday, there were only 60. A letter from the editorial board of the Arizona Republic called the situation in Maricopa County a "a massive failure in planning and execution."
While lines in Maricopa County, which includes Phoenix, were hours long, nearby Pima County had "130 sites, more than twice as many as Maricopa County, for one-quarter as many voters," CNN reported.
A post Tuesday on the Arizona Black Voter Alliance Facebook page said "Curious to know what voter suppression looks like? Today was the Presidential Preferential elections, lines were long, many voters turned away. The number of polling places have been reduced in Maricopa County from 200 to 60, affecting primarily communities of color. Voting is a right not a privilege — it should be fair and accessible to all our people." 
According to the Arizona Republic there was one polling station for every 21,000 people in Maricopa County. 
Democratic presidential candidate and Vermont Sen. Bernie Sanders has already spoken out about the alleged voter suppression in Arizona, saying in a news conference Wednesday that "what happened in Arizona is a disgrace. I hope that every state in this country learns from that and learns how to put together a proper election where people can come in and vote in a timely manner and go back to work," reported CNN. "We do not know how many thousands of people who wanted to vote in Arizona did not vote."
The Arizona Democratic Party has set up an online poll, soliciting information from Arizona voters who experienced issues when they tried to vote on Tuesday.