Here's a Transphobic Video of Donald Trump Smelling Rudy Giuliani's Fake Breasts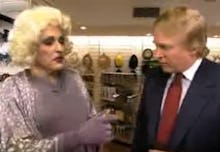 Real estate mogul and current Republican frontrunner Donald Trump never seems to pass up an opportunity to hog the spotlight, so should we really be that surprised that he once appeared in a "humorous" video where he pretended to sexually harass former New York City Mayor Rudy Giuliani? 
Read: Donald Trump Just Threatened Ted Cruz's Wife on Twitter
The video, uploaded to YouTube back in 2006, was apparently first shown at the 2000 Inner Circle Show, an annual event during which members of the media poke fun at current events, and politicians dress up in drag, apparently. In it, Trump compliments Giuliani, who tiptoes through a department store wearing a dress and high heels, saying, "You're really beautiful."
Then, Trump sticks his nose in between Giuliani's fake breasts, to which he responds (in falsetto) "Oh you dirty boy ... Donald, I thought you were a gentleman." Hilarious.
The joke here seems to be that Rudy Giuliani is wearing women's clothes, and that Donald Trump, playing himself, calls Giuliani a "beautiful woman." Basically, the idea is that a man in a dress must be hilarious and someone finding him attractive is even more hilarious — which is blatantly transphobic. 
This video wasn't even the first time Giuliani performed in drag, a New York Times review of the 1997 Inner Circle show proclaimed "Jaws Drop As Giuliani Steals Show In Heels" and described Giuliani appearing as "Rudia, a transvestite nightclub singer." Looks like the character was such a hit that Giuliani decided a repeat performance was necessary.
The video also seems to make light of Trump lecherously sticking his face into Giuliani's fake breasts. After he gets slapped away, Trump looks straight at the camera and shrugs, "You can't say I didn't try." Try to what, touch someone without their consent? Literally what is the funny part supposed to be here?
Trump's history makes this "joke" even more troubling: His ex-wife, Ivana Trump, once described a sexual encounter between the two of them as "rape," although she later released a statement saying "As a woman, I felt violated, as the love and tenderness, which he normally exhibited towards me, was absent. I referred to this as a 'rape,' but I do not want my words to be interpreted in a literal or criminal sense," reported The Daily Beast.