The Internet Is Going to Be 3-D Printed in Space — Because We Can, Damnit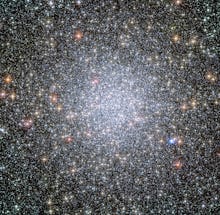 How's your mind? Blown? Baffled? Racing? Wondering why, just ... why? 
Same. But the short answer to that question seems to be a simple "why not?" As Search Engine Land reported, Majestic — a British provider of SEO services — is bringing both their internet graphing and futuristic printing capabilities to the final frontier, basically because they can. 
Read more: NASA Is About to Light the Biggest Human-Made Space Fire Ever
"We are (quite literally) going beyond the clouds as we aspire to be greater than the sum of our parts, by printing 'The Internet' in 3-D, in Space!" the company's blog announcement read. 
Using a zero gravity-compatible 3-D printer onboard Orbital ATK's recently launched Cygnus spacecraft, the #MajesticInSpace (MIS) project will produce a three-dimensional "data visualization of the entire internet," according to SearchEngineLand. It's expected to look something like the below model. Which is to say, not unlike a melting ice sculpture.
Unclear on what, exactly, it means to visualize the whole internet, in data terms or otherwise? According to Majestic's blog announcement, the plan is to map the many websites that make up the internet. And Majestic, for reference, apparently has more URLs in its index than there are stars in the Milky Way. It has a lot to work with. 
"The Internet has hundreds of millions of websites," the blog post said. "Like Galaxies, they gather in clusters. Galaxies are connected by gravity. Websites are connected by topics. Every website ... and every page on every website ... can be measured — based on the quality and quantity on those connections." Majestic measures the strength of those connections as well, and by charting variables together, it can make a sculpture of digital data with the help of Made In Space, a manufacturer of 3-D printers that work in space. 
Still wondering why they're doing this?
"Space has a huge symbolic significance for our team at Majestic," the company's marketing director, Dixon Jones, explained in a press release. "Like the internet, space is vast – possibly infinite. Like the internet, we are able to see and experience some of space, but much of it awaits to be discovered. This #MajesticInSpace project puts into perspective, not just the huge potential for Majestic to help businesses understand how to be more successful online, but sets in motion that idea that space is far from the final frontier of human and business potential."
So, it's a stellar advertisement for Majestic as a company, and also it's a voyage into the potential future of 3-D printing. Plus, as the press release put it, "No one has ever recreated the internet before in a physical form, let alone 3-D print it in space!"
In other words, why the hell not?