Straight Guys Are Super Into Threesomes — But Do They Actually Want To Have Them IRL?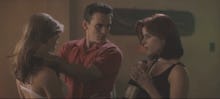 Straight men are super into threesomes, a fact clearly evidenced by porn and the HBO bro show Entourage and the Woody Allen movie Vicky Cristina Barcelona and also the Holy Trinity, as made popular by Jesus. 
All of the above notwithstanding, though, are couples actually having threesomes IRL? Well, an enlightening new study from the Archives of Sexual Behavior provides some clues.
Researchers analyzed survey answers from 274 heterosexual young adults and found that while 64% of them harbored "some interest" in having a mixed-gender threesome, only 13% of them had ever actually done so. 
In a shocking plot twist, male participants were found to have "significantly more positive attitudes and greater interest" in having threesomes! Who knew men might be open to the idea of getting with two girls at the same time?
While we typically assume that only straight dudes fantasize about being in the middle of a lady sandwich, previous studies have supported the idea that women are into them as well. According to a 2004 survey, for instance, 21% of sexually active American men and women had fantasized about having a threeway, while Pornhub Insights listed "threesome" as the site's 13th most popular overall search term in 2015.
But even though men might fantasize about having threesomes, they might get a little gun-shy if the opportunity to have one actually presents itself. "Taken together, these results suggest that young people are not judgmental about others engaging in MGTs [mixed-gender threesomes] but are not highly motivated to do so themselves," the authors concluded.
So basically, threesomes sound like lots of fun, especially to men, but few people are enthusiastic enough about the idea to actually follow through and get 'er done. As is the case with many sexual fantasies, just because some people like to jerk off to something doesn't mean they really want to do it in real life. 
h/t Glamour