Gigi Hadid Tears Up in Touching Speech About Mother's Lyme Disease Diagnosis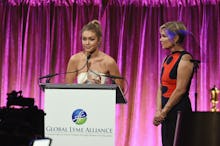 On Tuesday night's episode of the Real Housewives of Beverly Hills, the Hadid kin, which includes wife Yolanda Hadid and her daughters, models Bella and Gigi, attended the inaugural gala for the Global Lyme Alliance, according to Refinery29. At the October gala, Gigi Hadid went onstage to deliver a touching speech that brought her family — and others — to tears. 
"Tonight, we are honoring the person that, more than anyone I know, is hope for Lyme disease awareness, my mom," Gigi Hadid said in her speech while choking up with tears. "For your fight, for your passion and for making your journey one that will help so many, I'm so proud to honor you with this award." 
Read more: Gigi Hadid Has Something to Say About the Cultural Appropriation Debate
In December 2015, Yolanda Hadid wrote an open letter to her fans about her Lyme disease, saying that she'd had it for three years already at the time. "I am blessed with the unwavering support of my husband, my children and a handful of true friends, and I would like to thank you for all your sweet messages and support on social media," she wrote.
In the episode's commentary, Yolanda Hadid called her daughter's words "so beautiful," adding that the family's diagnosis with Lyme disease has been "really hard for us, this hasn't been a walk in the park. I don't know if it's heartbreaking or heartwarming, it's kind of in-between I guess."
Although Gigi has not been diagnosed with Lyme Disease, Yolanda's son Anwar and daughter Bella were diagnosed in 2012, Yolanda said in the episode. "I'm the only one in, of my siblings, my mom and my family, that hasn't been affected by Lyme disease," Gigi told Entertainment Tonight at the gala. "It's been really hard for me because I'm the only one that doesn't really understand it."
Gigi Hadid is an advocate for helping to find a cure for Lyme disease, having won MasterChef Celebrity Showdown in January and donated the $25,000 winnings to the Global Lyme Alliance for Lyme Disease, according to Entertainment Tonight.