This American Teenager Escaped Death Twice in Brussels Attack and Boston Marathon Bombing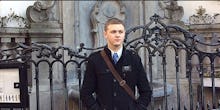 Mason Wells has witnessed three major terrorist attacks and survived each of them — all before coming of legal age to have a drink. The 19-year-old Mormon missionary from Utah was at the Zaventem international airport on Tuesday with two other missionaries when he felt the full force from multiple bombs detonating near the hub's flight check-in zone. 
It was a familiar feeling for Wells, who also narrowly escaped the Boston marathon bombings in 2013. He was standing at the finish line cheering for his mother, who was running in the race, when he could hear and feel the impact of the explosions just a block away. 
If that weren't enough, the teen traveler was performing missionary work just outside the heart of Paris when attackers stormed the city, killing 130 people, many being international travelers. It's a pattern that's become all too familiar for Wells, who is still recovering from the most recent attacks. The teen's Achilles tendon was ripped during one of the explosions at the airport, though he managed to walk away from the scene with the other missionaries, including 20-year-old Joseph Empty and 66-year-old Richard Norby. 
"Nineteen years old and exposed to three terrorist attacks is amazing for anyone," Lloyd Coleman, a family friend of Wells', told Huffington Post on Wednesday. "Especially an American."
In a phone call with his parents recorded by Good Morning America, Wells can be heard bravely calming down his crying parents, telling them he's on a path to recovery in a Parisian hospital. "I don't feel like you need to come to Europe, but I'm not going to stop you if you guys, if you want to, Dad," Wells says, explaining his doctors don't believe the burns on his head and hand are going to scar. 
Wells will be recovering in a hospital for a few more weeks before he can return home to Utah. 
While not nearly as severe, it's not the first time a man has survived multiple attacks. In 1945, Tsutomu Yamaguchi narrowly escaped the atomic bomb dropped on Hiroshima, fleeing back to his hometown of Nagasaki just in time to get hit by the second atomic bomb — and survive.
You can listen to Yamaguchi's incredible story on Radiolab.