Turns Out Ronda Rousey's Great-Grandfather Was One of the First Black Physicians in Canada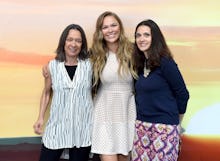 File this under "random": UFC fighter Ronda Rousey's great-grandfather was renowned Canadian doctor Alfred E. Waddell, according to Rousey's mother, AnnaMaria De Mars.
In a moment captured on video Tuesday, De Mars chatted it up with a TMZ cameraman and mentioned a TV documentary about her famous relative as a film he should check out:
"I'll give you a movie," De Mars told the cameraman. "Before His Time. My grandfather, Ronda's great-grandfather, they show it Black History Month every year in Canada, 'cause he was one of the first black physicians in North America."
Here's the full video of the interaction:
And here's an excerpt from Before His Time: Dr. Alfred E. Waddell:
This is not entirely unreported news: In 2012, Sports Illustrated ran a brief story about Rousey's fighting lineage that included mention of Waddell and his life. But Rousey's star has ascended far higher in the years since, to the point where she's now the closest thing mixed martial arts has to a household name.
Her great-grandfather, however, is not nearly as well-known — which is a shame, because he was an incredibly important figure in Canada. According to the web page for Before His Time, Waddell left his home country of Trinidad and emigrated to New York City in 1923 with dreams of becoming a doctor. Waddell worked to support himself and his family in New York until 1928, at which point he moved to Halifax, Nova Scotia and began his medical studies.
Waddell started practicing in 1933 after he graduated, but faced numerous challenges along the way. He was reportedly viewed with suspicion at first by both white and black potential clients, and counted many of Nova Scotia's Chinese-Canadian population as among his first patients. 
Waddell was also outspoken on issues of civil rights. He brought medicine to isolated black communities, spoke out against racial injustices and even housed black musicians who came to town to perform but couldn't get hotel rooms. He is remembered today as a beloved figure who helped bridge racial divides in Canada, and is honored in tributes to the country's black history.
Looks like it's time to add "promoting #BlackExcellence" to Rousey's already long list of accomplishments.
h/t TMZ