Elizabethkingia Bacteria Is Killing People in the Midwest, and The CDC Can't Find Out Why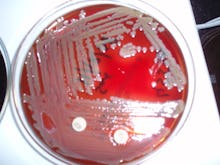 On Monday, a total of 54 people across 12 counties in Wisconsin were reported to have been infected with a rare bacteria called Elizabethkingia, which already killed someone in Michigan on March 17, Fox6 News reported. The outbreak is currently being investigated by the U.S. Centers for Disease Control and Prevention; general public knowledge of the bacteria is as virtually unknown as its origin.
"It's one of the largest [Elizabethkingia outbreaks] that I'm aware of, and certainly the largest one we've investigated," said Michael Bell, deputy director of the CDC's Division of Healthcare Quality Promotion, to the Washington Post. 
Read more: What 6 Ridiculous Old-Timey Diseases All Have In Common
Health officials are speeding to crack down on the outbreak, but the bacteria has not been detected in possible outbreak environments such as water sources or healthcare facilities, the Daily Beast reported. Since the Elizabethkingia that's wrecking havoc on the Midwest has the same "genetic fingerprint," it's probably from a single source, according to Wisconsin Public Radio. 
Elizabethkingia is typically found in soil or water and usually doesn't cause infections in humans. When it does, it's a "simple infection" that can become pneumonia or meningitis if left unchecked, according to Gizmodo. 
Named after microbiologist Elizabeth O. King, Elizabethkingia is not only resistant to most antibiotics but also causes fever, chills and skin infection. It can prove especially deadly to those older and with weaker immune systems. The median age of those who died is 77 years old, the Wisconsin Department of Health Services told the Beast. 
Since seniors are the ones mostly being infected, they often have other medical conditions that are making the investigation of Elizabethkingia more difficult, the Post reported. 
Elizabethkingia is not contagious and most likely those with robust immune systems are safe, according to WPR.
Investigators are turning to topical or ingestible medical or personal care products that have been contaminated, according to the Beast.