More Veterans Are Using Marijuana to Cope With PTSD Than Ever Before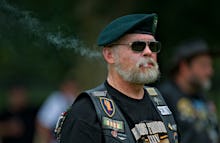 Veterans across the nation are currently lacking fundamental access to care for mental illness and health issues in general, thanks to an extremely backlogged Veterans Administration. Now, reports are indicating some former military members are turning to marijuana to cope with the pain of post-traumatic stress disorder, despite experts deeming there simply isn't enough research to prove any positive benefits to using marijuana to manage PTSD. 
However, veterans using the drug are attributing the decrease in insomnia and anxiety due to PTSD, to the usage of marijuana. 
"I went from being an anxious mess to numbing myself with the pills they were giving me," 39-year-old former Marine Mike Whiter told the Associated Press. "Cannabis helped me get out of the hole I was in. I started to talk to people and get over my social anxiety."
Read more: Research Shows Mental Health Issues More Common in Veterans Than Rest of US Population
Over 40,000 veterans suffering from PTSD are also diagnosed with marijuana dependency — that's almost 23%, or a 10-point climb from 13% in 2002, according to the most recent VA data released in 2015. The catch? According to the experts, smoking weed may not even be a useful way of dealing with PTSD, and the mental illness could exacerbate difficulties with abstaining from pot use. 
Dr. Karen Drexler, the VA's deputy national mental health program director, explained to the Associated Press that marijuana use can prove to be a tricky habit to kick for veterans with PTSD: "Marijuana may initially provide some relief," she told the news agency, but if you're a veteran with PTSD, "it's very hard to stop it once you start it ... It gets into this vicious cycle."
That isn't to say veterans nationwide are hailing it as the next miracle drug in treating PTSD. In fact, marijuana was anything but for former Army member Andy Zorn, who was diagnosed with PTSD before later becoming diagnosed with depression and bipolar disorder, the Associated Press reported. His mother told the agency he was smoking weed as sleep medication up until his suicide in 2014, when he wrote in his suicide note "marijuana killed my soul & ruined my brain."
We have no idea whether marijuana aids PTSD treatment, and there's a major reason why. Until weed is no longer listed as a Schedule I drug by the Drug Enforcement Administration, marijuana can't be given the proper breadth of research it needs for its medical use to be determined, as Mic previously reported.