Here's What "Canadians" Think of Americans Moving to Canada if Trump Becomes President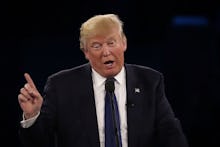 Since Trump's repeated victories in Republican primaries and caucuses all over the country, the possibility of his potential presidency has become increasingly real — and frightening — to many Americans.
As such, people are freaking out and looking to move to Canada. The Google searches for how to do so have skyrocketed.
The problem? Canada doesn't want them.
At least according to this hilarious skit from the Ellen Show... Canadians want no part of Americans and their burdensome baggage.
Here are the highlights from the sketch.
"Hi. I'm Guy LeBlueBlah, secretary of the Real Canadian Bureau of Immigration, eh, a "Canadian."
LeBlueBlah gets Canada's appeal. The country has clean air, a progressive and handsome prime minister and a lifetime supply of authentic maple syrup.
But sorry, no.
"Well to that, we Canadians say: No. Leave us the f*ck out of it," the "Real Canadian Bureau of Immigration."
Here's Canada's new unofficial motto, according to LeBlueBlah:
"Canada: We're nice, but not that nice."
Read more: How Donald Trump Broke Up This Gay Man's Relationship