ISIS Has Trained 400 Fighters to Attack Europe, Officials Say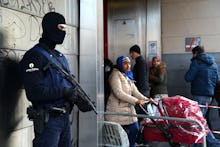 At least 400 ISIS-trained fighters are ready to unleash a fresh wave of terror across Europe, with as many as 90 already lying in wait across the continent.
According to intelligence officials, the fighters, who have organized into semiautonomous cells similar to those that coordinated the attacks in Belgium and Paris, will determine the time and place for future attacks on their own, acting on orders to incite the "maximum carnage" possible.
Read more: The U.S. State Department Just Declared ISIS' Actions "Genocide"
But an unnamed security official told the Associated Press that the Islamic State group is less concerned with the number of casualties than it is the number of attacks "so the enemy is forced to spend more money or more in manpower." 
"It's more about the rhythm of terror operations now," he said. And its fighters are better prepared than ever to hit these goals. 
"In 2014, some of these IS fighters were only being given a couple weeks of training," the official said. "Now the strategy has changed. Special units have been set up. The training is longer."
The reports come just one day after a series of explosions at a Brussels airport and metro station left 34 people dead and more than 230 wounded.
The attacks are believed to be linked to the arrest of one of the key suspects in the November Paris attacks that killed 130 people, Salah Abdelslam.
Though many were quick to celebrate Abdelslam's capture, Belgium officials like Interior Minister Jan Jambon warned that the arrest could spur a wave of retaliation attacks from those that supported Abdelslam's cause.
"We know that stopping one cell can push others into action," Jambon said Monday.
His worst fears were realized just one day later.