California Will Become the First State to Put the $15 Minimum Wage to a Vote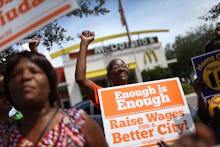 The national movement for a $15 minimum wage may have just won its biggest victory yet. 
On Tuesday, California's secretary of state announced that an initiative that would raise the state's minimum wage to $15 an hour has qualified to appear on a statewide ballot in November's elections. If the measure does make it onto the ballot, it would make California the first state in American history to put a $15 minimum wage to a referendum.
If the ballot initiative passed, it would push the minimum wage up in waves. According to CNN, the wage would increase from $10 — the current minimum — to $11 on the first day of 2017. It would subsequently go up by a dollar a year until hitting the full $15 wage in 2021. 
Read more: Here's What's Happening 2 Years After This Restaurant Started Paying Workers $15 an Hour
As exciting as the news is for California's higher-wage advocates, it's not necessarily the measure that all of them want on November's ballot.  Another initiative, one which would raise the minimum wage to $15 for big businesses by 2020 and also increase annual paid sick days, is still in the signature-gathering part of the filing process, and could also qualify for November's ballot, according to the Associated Press. That proposal was filed by a different group of union members than the ones who filed the proposal which just qualified for the ballot, and should it also qualify, one of them will have to be withdrawn by June 30.
Regardless of how which proposal makes it onto the ballot, it seems all but certain that come November, Californians will be voting on whether or not they think that the lowest-paid workers in their state should be given a significant raise. 
Excluding the District of Columbia, California has the highest minimum wage in the country at $10 an hour. The only other state that matches it is Massachusetts.
But it's clear from citywide increases in the minimum wage in recent years that the cost of living in certain areas of California necessitate higher pay. San Francisco and Los Angeles passed laws in 2014 and 2015 respectively that are phasing in a $15 minimum wage for businesses. 
But a statewide shift to a $15 minimum wage would be of far greater consequence. California is home to around 40 million people and hosts the world's seventh-largest economy. Boosting its wages to $15 an hour by 2020 or 2021 would serve as a massively important experiment in understanding the impact of a significant and fairly rapid increase in minimum wage. And if it has a good outcome, it could bode well for low-paid workers across the nation.